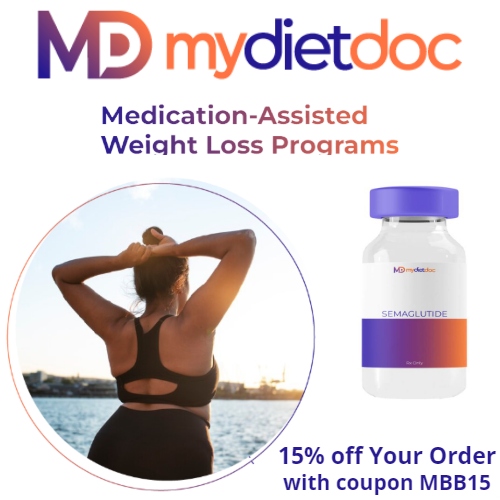 Losing weight is tough! Sometimes we need a little help, but most weight loss programs are hard to stick to and trying to figure out which supplements will actually work for you can be overwhelming. Plus, a lot of over-the-counter diet pills aren't safe and don't provide lasting results.
MyDietDoc provides safe and convenient medication assisted weight loss solutions with ongoing coaching to help you reach your goals and maintain a healthy lifestyle.
Their metabolic reset program is built on decades of research that shows it is the most effective approach for sustained weight loss & improved metabolic health. They use incremental habit change through intensive lifestyle intervention in combination with medications that work on underlying biology to give you real results.
Getting started is easy. Simply choose a 30- or 60-day plan, enter your payment info (you won't be billed until after your consultation), and complete a phone or video consultation with one of their doctors. Your doctor will put together a customized meal & supplement plan just for you and MyDietDoc will ship your supplements right away so you can get started on your weight loss journey.
They have a wide range of supplements they can prescribe depending on your exact needs. The medications help with things like appetite control, increased metabolism, blood sugar regulation, sugar/carb craving control, breaking down stubborn fat, increased energy & brain performance, anti-aging and more.
The cornerstone medication for the program is Semaglutide (Generic Wegovy). It is a newly FDA-approved weight loss medicine that has shown to powerfully reduce appetite & food cravings for more controlled eating and improve glycemic control.
After your initial consultation, MyDietDoc will assign a weight loss counselor to help you every step of the way with nutrition, exercise, and motivational advice. You can speak with your counselor as little or as frequently as you like. After your initial consultation, you only pay for the medication!
Get 15% off your order at MyDietDoc using coupon MBB15. Coupons are not valid on program specials.
8