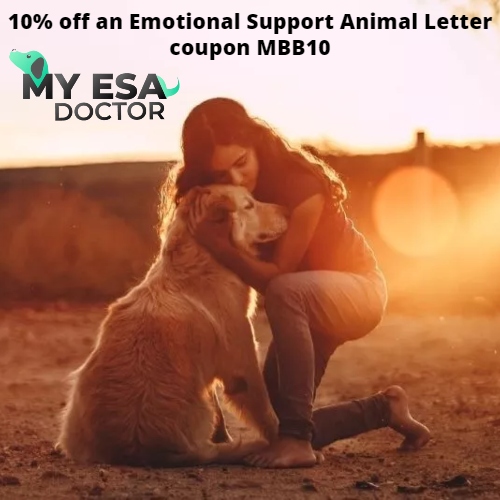 Do you need to get your emotional support animal (ESA) registered but don't know where to start? My ESA Doctor makes it quick & easy and you can do it all from the comfort of your own home!
My ESA Doctor's team of highly qualified staff and licensed medical health professionals make the process a breeze. You simply register for an account, fill out the prequalification form, and complete a video call ESA evaluation with one of their doctors. The entire process can be done online or from your phone – No appointment needed!
Upon approval, you'll receive your ESA letter via email within 1 hour! The hard copy will arrive in the mail within 1-2 business days. My ESA Doctor letters are valid for 12 months and are accepted in all 50 states.
Your ESA letter will allow you to keep your emotional support animal with you as much as possible. It allows your ESA to fly in-cabin with you without extra fees and to live with you in a no-pet policy rental property or college dorm without any hassle. And unlike service animals, your pet doesn't need any training to be an ESA.
Not sure if you'll qualify? No worries! My ESA Doctor offers a 100% money back guarantee if you are not approved for an emotional support animal letter.
Get 10% off an emotional support animal letter at My ESA Doctor using coupon MBB10.
More about getting an ESA letter –
An ESA letter is a recommendation from a licensed physician who believes that an emotional support animal would help manage the patient's mental health condition. ESAs are designed for people in stress. They offer companionship and constant support in the face of uncomfortable neurological conditions like PTSD, stress, depression, autism, bipolar, and more. The ESA letter allows you to live and fly with your emotional support animal without any hassles. To qualify for those benefits, you must be evaluated by a licensed medical health professional.
1