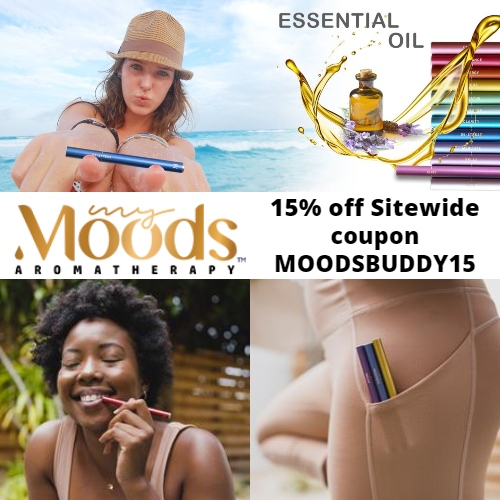 MyMoods provides aromatherapy on-the-go. Their personal aromatherapy diffusers are filled with pure essential oil blends that are perfectly engineered to support your mind, body, and spirit naturally – just take a breath and enhance your mood anytime, anywhere.
MyMoods diffusers are safe & easy to use. They are designed to be breathed in through the mouth and exhaled through the nose. Just a few breaths of their natural blends will ignite your olfactory senses and support you on your journey to wellness. The essential oils used in MyMoods diffusers are natural and organic, emulsified in pure food grade vegetable glycerin derived from coconut.
MyMoods has aromatherapy diffusers to help with things like energy, stress management, better sleep, relaxation, headache relief, mental clarity, tranquility, and more.
Get 15% off Sitewide at MyMoods using coupon MOODSBUDDY15. The more you buy, the more you save! You can get an extra 15% off when you buy 2 or 20% off when you buy 3 or more (discount is automatically applied in cart). Shipping is $5.99 or Free on orders of $35 or more.
For the best deal, check out their Self Help Kits. You can get four diffusers for only $51 shipped with coupon MOODSBUDDY15 ($79.80 value).
More about MyMoods –
MyMoods diffusers are made with 100% essential oil blends. They do not contain tobacco, nicotine, artificial ingredients, and any other chemicals/toxins. Their products are not burned and run on low power. The mist that is released is like water – it is very minimal and similar to steam emitted from a kettle, thus keeping the temperature that the essential oils are heated in at safe levels, with no harmful materials being produced.
MyMoods is not intended to be inhaled. Unlike vaping and e-cigarettes, the benefits of using MyMoods aromatherapy comes from activation of olfactory receptors in the nasal cavity, not absorption through the lungs. However, it is safe it goes into your lungs.
Individuals who have experienced allergic reactions to essential oils, have asthma or similar respiratory conditions or are pregnant or nursing, should not use MyMoods diffusers.
3