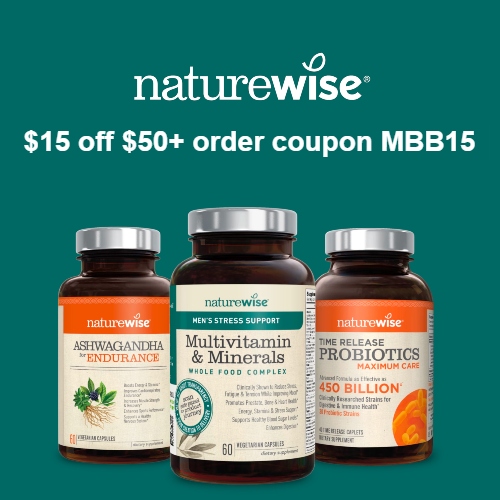 NatureWise provides high quality vitamins and supplements to keep you healthy and happy. Their product line includes multivitamins, probiotics, bone & joint support, immunity support and herbal blends for stress, healthy aging, healthy weight, and more.
Be sure to check out their ashwagandha products! Ashwagandha is renowned for its ability to reduce the damaging effects of stress on the mind and body, it is the perfect remedy for our high-pressure, fast-paced modern age. NatureWise combines clinically proven ashwagandha extract with select botanicals to deliver targeted support for stress, endurance, brain health, and healthy aging.
NatureWise uses only the highest quality raw materials in their products. All products are non-GMO, they undergo rigorous independent testing to exceed standards and guarantee purity and quality, and they are tested and bottled at a cGMP certified facility in the USA with the highest quality ingredients from around the world.
Get $15 off $50 or more at NatureWise using coupon MBB15. Standard U.S. shipping is Free on all orders! All supplements come with a satisfaction guarantee.
4