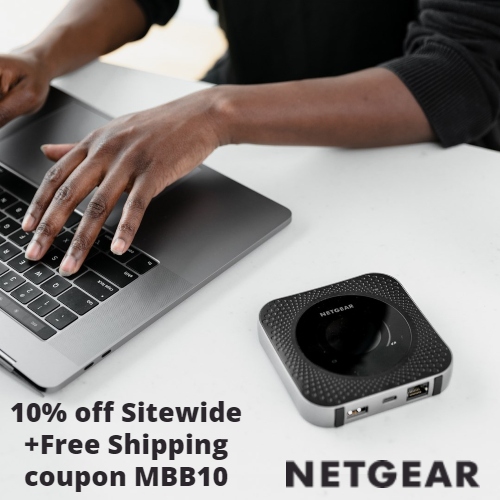 Since 1996, NETGEAR has been a leading worldwide provider of innovative networking solutions for homes and small businesses. They offer a range of premium WiFi routers & WiFi range extenders, cable modems & modem routers, 4G & 5G mobile hotspots, switches, and more.
Their easy-to-use home devices are designed to enhance your internet service by giving you the extra speed, range, storage, and performance you need to stream your favorite media without buffering, stay connected no matter where you are in your home, check in on your home from your smartphone, and store, protect & display your family memories.
Whether you're running a small business that's just starting out or an established mid-size business ready to take the next step, NETGEAR has the networking, storage, and security solutions you need to run smoothly & confidently without the high price and headache that comes with the big IT companies. Their business line of products allow you to connect remote locations securely, share access & ideas safely, ensure you're always connected with reliable mobile hotspots, and give your staff the tools they need to perform at their best.
Get 10% off Sitewide at NETGEAR using coupon MBB10. Ground shipping is Free on all orders – No minimum purchase required! Spending $300 or more? NETGEAR will upgrade you to 2-day shipping for Free.
Some of their most popular product categories include:
Whole Home Mesh Wifi – Their Orbi Mesh systems are the complete home Wifi package. They allow you to cover every square inch of your home with smooth, reliable, best-in-class WiFi. They can cover up to 9,000 square feet with blazing-fast speeds of up to 10.8Gbps for over 40 devices!
WiFi Range Extenders – Just need a little boost? Pair your router with a NETGEAR extender to expand your coverage and get your WiFi where you want it, even hard-to-reach places, so you can say goodbye to dead zones and dropped connections.
modem routers, Mobile WiFi Routers – Their 5G and 4G mobile routers provide your home with super fast LTE that can be used as your primary or backup WiFi so you can enjoy high speeds on all your devices anytime.
Cable Modem Routers – NETGEAR's two-in-one modem and router combo devices optimize internet speeds and WiFi performance while helping you save on equipment rental fees from service providers.
Gaming Routers – NETGEAR's Nighthawk Gaming Routers with DumaOS that can reduce lag & latency and dramatically improve gameplay by lowering ping up to 93%.
Meural Smart WiFi Photo Frames – Display photos, art & NFTs with exceptional clarity and brightness on a full 1920x1080p HD, anti-glare display. Showcase your best pictures or automatically sync with photo albums already on your smartphone.
For a limited time, Meural Smart WiFi Photo Frames and Meural Canvas II devices come with a Free 1-year Meural membership ($69.95 value). Meural partners with some of the world's leading image collections to bring you a dynamic art library of over over 30,000 artworks!
4