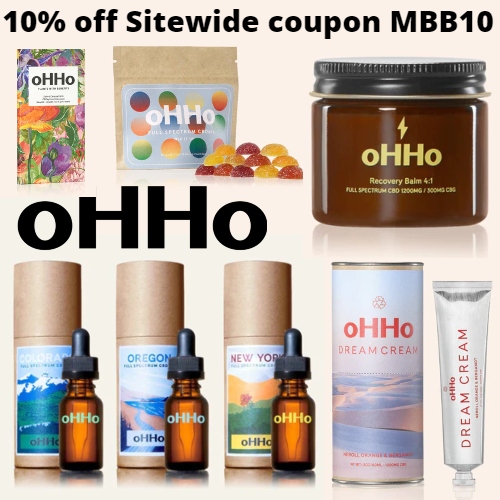 oHHo is a CBD and botanicals wellness company on a mission to help people feel their best by providing "Plants with Benefits™". They work hand in hand with a network of American growers and a team of world class biochemists to bring you clean, sustainable, high potency CBD and botanical products.
Every stage of their product development, from seed to bottle, is handled with diligence, a strong code of ethics, and sustainability. Their plants are sun grown in native soil in some of the most pristine regions in the country and they use only what nature provides, with no artificial ingredients.
Their premium CBD oils have only two ingredients: Hemp Extract & MCT Oil. Their other products are infused with all natural botanicals that provide soothing & healing benefits, including Bergamot, Neroli, Lavender, Camphor, Peppermint, Citrus, and Cypress Oil.
oHHo products are specially formulated to help with things like sleep, relaxation, comfort, and focus. They offer a variety of full spectrum oils, high potency topicals, great tasting edibles, smooth & delicious CBD coffees, and CBD dog biscuits to keep your pups at their best.
Looking for a sweet treat? oHHo has partnered with artist Emily Bond to create beautifully wrapped, decadent salted caramel chocolate bars. They offer CBDAY bars to awaken your mind & provide focus for your day and CBNIGHT bars for a restful night's sleep. Both are available in milk & dark chocolate.
Get 10% off Sitewide at oHHo using coupon MBB10. Shipping is $3.50 or Free on orders of $75 or more. All products come with a 30-day satisfaction guarantee.
1