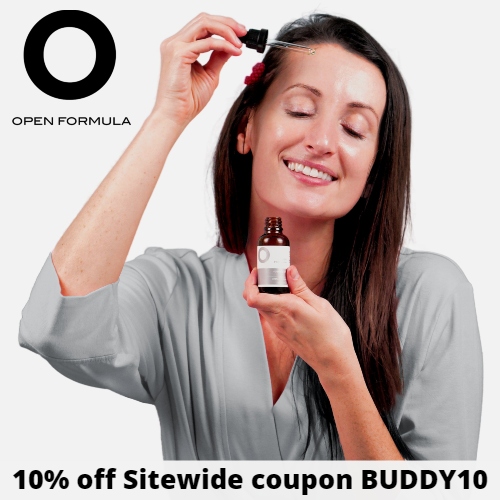 Did you know that most American women are exposed to 168 chemicals every day with their skincare and cosmetic products? Many of these chemicals are known to disrupt hormones, cause infertility and even cancer. Open Formula has a better option! They make ultra clean skincare products that are effective and affordable!
Open Formula is proving skincare products with minimal (some products are made with only 2 ingredients!), clean ingredients can be more effective and more pleasant to use than traditional chemical-ridden products. By using high concentrations of functional ingredients, like retinoids, exfoliating acids and antioxidants in a minimal base, they are resetting the beauty world's expectations for skincare that delivers results, eliminates exposure to harmful chemicals, and delights the skin.
Open Formula products are also extremely fresh! They make the products themselves in Chicago and ship the freshest skincare possible directly to you. They do not use contract manufacturers, distributor warehouses, or retailers, which can add 6-12 months before products get to you!
Their skin care solutions are specially formulated to help with things like dark spots, skin tone, uneven complexion, fine lines & wrinkles, dry skin, and blemishes. Their line of premium skincare includes cleansers, moisturizers, face serums & oils, face masks, peels, exfoliators, and more.
Get 10% off Sitewide at Open Formula using coupon BUDDY10. Shipping is Free on orders of $50 or more. All products come with a 100-day money back guarantee. The product you wish to return must be in the original bottle and 50% full.
Be sure to check out their already discounted Supersets & sale items. They're up to $34 off before coupon!
For the best deal, consider a annual membership. Membership is $48 per year ($43.20 for your first year with coupon BUDDY10) and it gives you 50% off regular prices on all products + Free U.S. shipping on all orders. There's no monthly boxes, you can order products only when you need them, and you can cancel anytime. Membership fees are non-refundable. If you cancel, you will not be billed in the next billing cycle.
Open Formula is Green company. They use only clean and sustainable ingredients and recyclable packaging. Their minimalist formulas take 50% less energy to make, which minimizes their carbon footprint. All Open Formula products are vegan and cruelty-free.
3