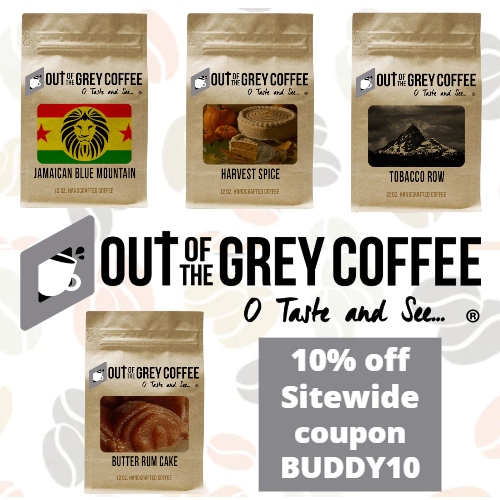 This post contains affiliate links. See my disclosure policy for more details.
Out Of The Grey Coffee offers premium coffee & luxury loose leaf teas for connoisseurs who appreciate choice, freshness, and exceptional flavor.
They pride themselves on offering some of the highest quality, handcrafted & Fairtrade coffee available. Their roasts are made from over 25 carefully selected coffee beans from around the world that are selectively sourced and organically farmed.
Out Of The Grey Coffee is roasted to order in small batches using their signature roasting process that highlights the attributes inherent in the beans for a smooth, rich flavor every time. After roasting, the coffee is shipped out right away so it arrives fresh at your door with that delicious, just roasted aroma.
They offer multiple roasts to suit every taste, including single origin coffee, artisan blends, decaf roasts, espresso, and a wide range of low acidic flavored coffees, like Caramel Almond Biscotti, Harvest Spice, and Bourbon Pecan Torte.
If you want to treat yourself to something special, order their Royal Kona coffee. The aroma alone is out of this world and the taste… it's described on their site as "Deep, sweet fruit-toned complexity with dark chocolate, musky lily, strawberry, watermelon & roasted almond flavors, round, vibrant acidity & full, syrupy mouthfeel". I'm no coffee expert, so picking out those tones aren't something I'm good at, but I can tell you this coffee is one of the best I've ever had!
Their small batch loose leaf teas combine carefully selected ingredients that are meticulously evaluated and tested until they achieve the perfect balance of quality & taste. You'll find Oolong, Rooibos, Green, Black, White, Chai, and Herbal teas in great flavors like Tropical Rain Flower, Peppermint Candy, Orange Dreamsicle, and more.
Looking for a sweet treat? Grab a bag of their scrumptious chocolate covered Ethiopian coffee beans that are freshly roasted with full espresso flavor for a sweet, chocolatey pick-me-up.
Get 10% off Sitewide at Out Of The Grey Coffee using coupon BUDDY10. Shipping is a flat rate of $7.77 or Free on orders of $90 or more. Coupon is not valid on subscription orders.
2