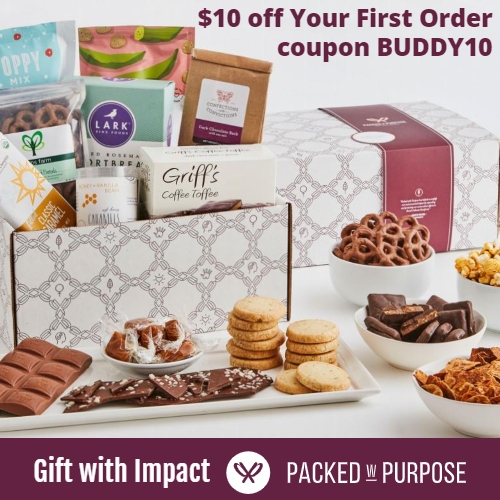 Packed with Purpose offers gifts that give back! They specially curate premium gift boxes with items from purpose-driven organizations – Purposeful Purveyors, who produce high-quality products and create a positive societal impact. Give a meaningful gift that the recipient will love, while supporting positive change and helping people in need!
Your recipient will not only receive a gift box filled with delightful novelties and delicious snacks, they will also get the experience of discovering these incredible organizations. Packed with Purpose includes an artful impact booklet in each gift box that brings the inspiring stories behind their Purposeful Purveyors to life.
Their Purposeful Purveyor partners consist of minority-owned, women-owned, B-Corp, and BIPOC companies with products that are made in the USA, eco-friendly, and small batch. Each product they offer represents an inspiring story of change and positively impacts our communities. For example, they offer deliciously rich chocolates that provide job training to survivors of abuse, beautiful notebooks that are made from sustainably sourced wood that drives reforestation efforts, and scrumptious granola that provides employment to those who were formerly incarcerated.
Packed with Purpose curated gift boxes include handpicked products of the highest quality that are beautifully packaged in sustainable gift boxes. They offer corporate gifts, holiday gifts, and personal gifts for friends and loved ones. To make your gift even more special, you can customize it by adding additional branded products and/or adding your logo to the box for corporate gifts.
Get $10 off your first order at Packed with Purpose using coupon BUDDY10.
9