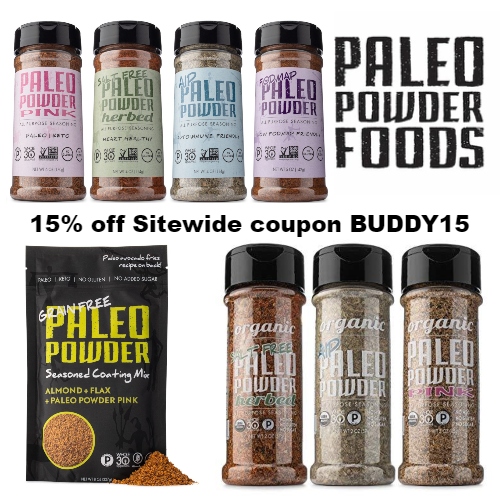 Paleo Powder offers grain-free seasonings and seasoned coating mixes (aka breadless "breading," Paleo panko). Their mission is to provide the everyday home cook flavorful, one-stop, healthy flavor options.
What makes their seasoning Paleo? Unlike most seasoning blends, Paleo Powder seasonings do not contain unhealthy ingredients (like sugar) or disruptive additives (like silicon dioxide used to prevent clumping) and are produced in a facility where there is no chance of wheat, milk, soy, or other non-Paleo contamination.
Their seasonings are great tasting, versatile, diet-specific all-purpose blends formulated to enhance the flavor of almost any dish. They offer five delicious Lifestyle Seasoning Blends and four Organic Seasoning Blends, including specially formulated seasonings for those suffering from IBS or an autoimmune condition, so that everyone can have flavorful food – even when dealing with dietary challenges!
Their seasoned coating mixes are made specifically for baking and air frying all your favorite foods with added healthy, junk-free flavor and texture. They are made with things like almonds, pecans, and flax seeds to give you a healthy, guilt free "Breadless Breading". They have four great options to choose from, including an AIP approved mix made with Cassava.
All Paleo Powder products are MSG free, gluten free, Certified Paleo, Whole30 Approved, Non-GMO and GO TEXAN.
Get 15% off Sitewide at Paleo Powder using coupon BUDDY15. Shipping starts at $3.99 and is Free on orders of $50 or more.
4