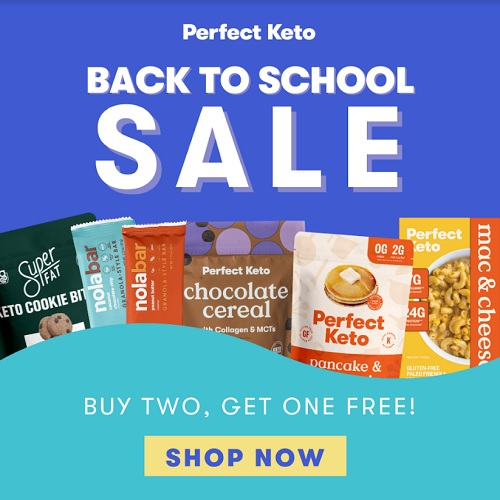 No matter how old you are, the "back to school" feeling is real. It's a great time to get into a new, healthy routine and focus on becoming the best version of yourself. That includes reaching for healthier snacks when the urge arises and Perfect Keto is here to help! 🙂
Buy any two products from Perfect Keto's Back to School Snacks collection and get a third item 100% Free using coupon BACKTOSCHOOL. Mix/match is ok! Coupon will apply to the lowest priced item(s) in your cart and there is no limit on the number of Free products you can get. If you order 6 items, 2 of them will be Free, etc.
Some of the delicious products in this sale include –
🧀 Keto Mac & Cheese – With only 7g of net carbs and 24g of protein, it's quick and has all the cheesy creaminess of the macaroni you love with none of the junk or guilt.
🤤 Nola Bars – Chewy, grain-free, keto-friendly granola-style bars that taste just like the ones you loved as a kid, except the only have 1-3g net carbs per bar.
⭐ Mallow Munch – These sweet, keto crispy bars deliver that nostalgic, rice crispy treat flavor without compromising ketosis.
🍪 Keto Cookies – Delicious, clean, indulgent keto cookies with only 4g of net carbs per serving.
Orders over $60 ship Free and all products are backed by a 30-day money-back guarantee. Coupons are not valid on subscription orders.
10