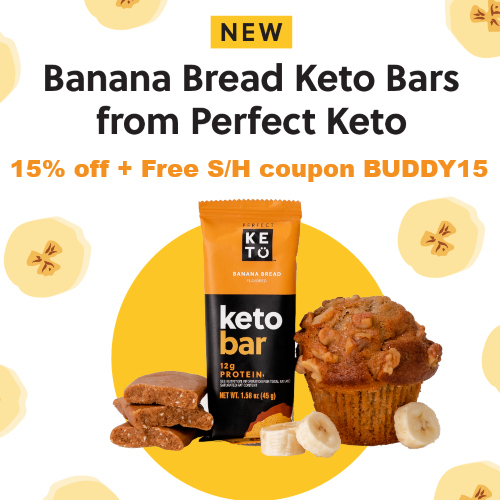 If you're on a keto diet and everyone's pictures of homemade banana bread have you drooling on your keyboard, Perfect Keto is here to save the day! Their new Banana Bread Keto Bars make a tasty snack, convenient breakfast, or guilt-free treat at the end of a long day.
For the first time, you can enjoy banana bread while staying in ketosis. Plus, each Perfect Keto Banana Bread Bar has:
✔️ Only 3g of net carbs
✔️ 12g of protein
✔️ Grass-fed collagen
✔️ Real, whole food ingredients
✔️ No added sugar or junk
Perfect Keto Banana Bread Keto Bars join their lineup of clean, keto-friendly snack bars you know and love BUT have a delicious, fresh-baked twist. Other flavors include peanut butter chocolate chip, cinnamon roll, birthday cake, chocolate chip cookie dough, salted caramel, almond butter brownie, and lemon poppy seed. Order bars (in any flavor) and get 15% off using coupon BUDDY15.
If you see something else you'd like to try, you can get 15% off other items using coupon BUDDY15. Coupon is not valid on bundles, which are already up to $70 off.
Perfect Keto products are made with real food ingredients to promote better health. They contain no gluten, grains, soy, corn, added sugar, artificial flavors/colors, fillers or chemicals. Whether you're just starting a keto diet or you've been living a keto lifestyle for years, they've got all the snacks and supplements you need!
23