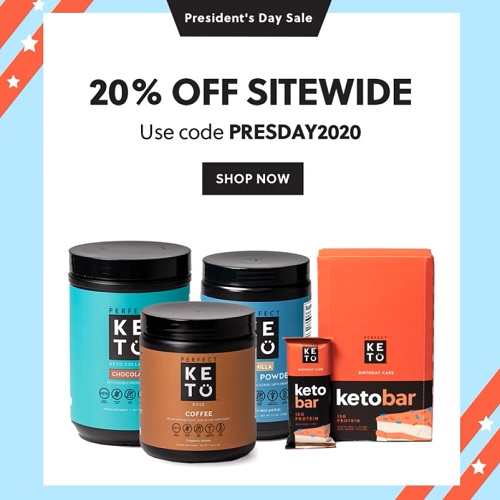 Perfect Keto is your one-stop shop for keto-friendly snacks and supplements to support a healthy lifestyle. Their products contain no added sugars, nothing artificial, no fillers or chemicals, no gluten/grains and no soy, corn, or peanuts.
Get 20% off Sitewide at Perfect Keto using coupon PRESDAY2020. Shipping is Free on orders of $29 or more. Coupon will not work on bundles, which are already up to $98 off.
Quick links to popular products:
Keto Bars – The cleanest low carb bar available, Keto Bars are your new keto secret weapon (only 3g of net carbs). Available in fun flavors like birthday cake, salted caramel, cinnamon roll, chocolate chip cookie dough, and more.
Keto Collagen – Your body's best friend – supports your hair, skin, nails and joints.
MCT Oil Powder – Supports mental clarity, metabolic function and provides convenient fats.
Keto Base – Boost ketone levels with our flagship product. The most important supplement to support a keto diet.
11