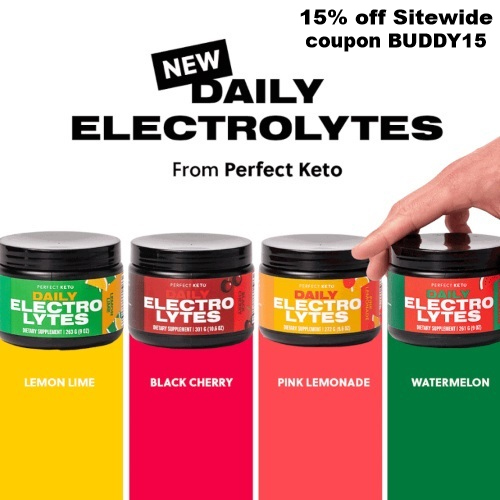 Hydration is especially important on keto. When you first start keto and your body adapts to ketosis for the first time, you lose more fluids (and electrolytes) than normal, which can cause unwanted side effects such as dehydration, altered mood, fatigue, constipation, cramps, brain fog and headaches (also known as the keto flu).
Perfect Keto Daily Electrolytes contain a blend of magnesium, sodium, chloride, and potassium in the optimal ratio for optimal hydration, as well as vitamin D for an extra health boost. They help reduce keto adaptation symptoms caused by dehydration when your body first enters ketosis. After you've adapted to ketosis, Daily Electrolytes will ensure you maintain the right electrolyte balance in your body.
If you see something else you'd like to try, coupon BUDDY15 takes 15% off all other items, excluding bundles, which are already up to $70 off.
Whether you're just starting a keto diet or you've been living a keto lifestyle for years, Perfect Keto has all the snacks and supplements you need!
7