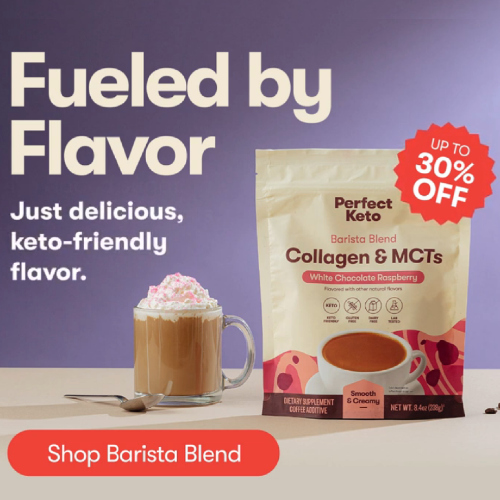 Did you know many coffee shop specialty lattes actually contain more sugar than a can of Coke? If you enjoy a decadent coffee, but could do without all that sugar, this deal is for you!
Available in White Chocolate Raspberry and Hazelnut, Perfect Keto's Barista Blend Creamer is a keto-friendly creamer with benefits! With just 2g net carbs per scoop, it has virtually no effect on blood sugar levels, meaning you'll stay in ketosis after drinking it, even on a regular basis.
Each serving contains:
✅ ​​30 calories
✅ 2 grams of net carbs
✅ 1.5 grams of fat
✅ 4 grams of protein
Perfect Keto's Barista Blend Creamer is made with collagen to support hair, nails, skin, joint and digestive health and MCTs for mental clarity and metabolic function.
Added bonus, it has a delicious sweet and creamy taste! Most coffee creamers taste artificial because they contain artificial ingredients. Since they don't use any artificial ingredients, Barista Blend doesn't have an artificial aftertaste.
Through 1/22, you can get 20% off 1 item, 25% off 2 items, or 30% off 3 or more items. This discount is valid sitewide on all products (not just the creamer) and it will apply automatically at checkout. Discount cannot be combined with coupons or subscribe & save discount.
1