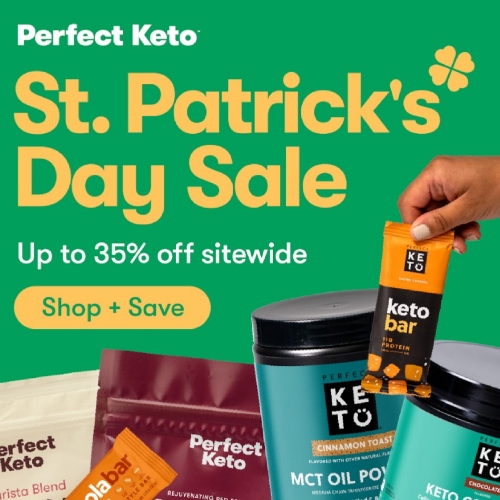 If you're feeling a wee bit lucky today, that's no coincidence. Perfect Keto's NEW Super Reds Antioxidant Blends are back in stock! These antioxidant blends were so popular, they sold out within just 10 hours during the presale.
Enriched with a blend of vitamins, minerals, and antioxidants derived from ten superfood fruits and vegetables, Super Reds is a low-sugar alternative to juicing. Along with 2g of Marine Collagen, this product is delicious and offers numerous health benefits. With only 15 calories and 1-2g net carbs per serving, it is an excellent addition to any diet.
Perfect Keto is having a huge sitewide sale through Monday. Try the new Super Reds or just stock up on your favorite Keto supplements and snacks. No coupon required. Discount is applied automatically at checkout.
Buy 2 items, Get 20% off
Buy 3 items, Get 25% off
Buy 4 items, Get 30% off
Buy 5+ items, Get 35% off
Shipping is Free on orders over $60 and all products are backed by a 30-day money-back guarantee. Ordering only 1 item? Use coupon PKBUDDY20 to get 20% off your order.
1