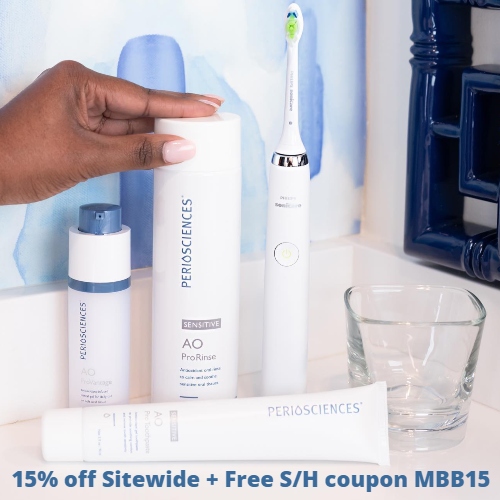 PerioSciences combines antioxidants, anti-bacterials, and science to create powerful oral care products that give you a beautiful, healthy smile.
PerioSciences products have received thousands of 5-star reviews and are recommended by top periodontists for their soothing & healing effects after oral surgery. Their formulas are backed by years of research and they have the only patented antioxidant oral care products on the market. Their products contain no harsh chemicals, just powerful antioxidants, like phloretin and ferulic acid combined with herbs and essential oils to promote a healthy oral environment, fresh breath, and naturally moist oral tissues.

Their product line includes ProVantage Dental Gel that freshens your breath while soothing your mouth's sensitive soft tissue, as well as Pro Toothpaste and Pro Rinse in your choice of Natural, Whitening, Hydrating, or Sensitive. Their sensitive toothpaste and rinse are clinically proven to relieve sensitivity within 72 hours!
Get 15% off Sitewide at PerioSciences using coupon MBB15. Shipping is Free on all orders – No minimum purchase required!
Want to try all 3 products? Order their discounted Smile Care System. You'll get the ProVantage Dental Gel plus a Pro Toothpaste & Pro Rinse for $59.08 using coupon MBB15 ($81 value).
3