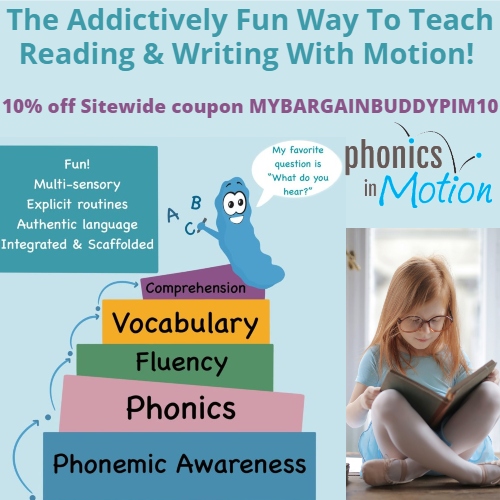 Developed by renowned literacy expert, Dr. Terry Kindervater, Phonics in Motion is a comprehensive early literacy program for Pre-K through 3rd grade educators, homeschoolers, and families who want to take an active role in their kids' learning. It's a fun, multi-sensory teaching method that improves literacy & language development, develops a life-long love of learning, and makes learning to read and write easier & more enjoyable for students.
Phonics in Motion provides all the knowledge and materials you need for effective & engaging teaching routines. Their programs engage little learners in language by bringing traditional (and often boring) curriculum to life. Watch the kids' faces light up with smiles as you develop Phonemic Awareness with active motions (kids want to move!), sing with poetry, engage with the Reading & Writing Monster, model writing on the Language Calendar, tell stories that children can connect with and will laugh out loud over, and spend phonics and word work time in the Vowel House.
Phonics in Motion's complete school year programs are packed with time-saving tools like grade/child-specific monthly literacy teaching plans, kid-approved downloadable worksheets and animations, as well as virtual trainings and a comprehensive eBook to help you learn the motions & stories that will transform your early literacy teaching. The program can easily be layered into the curriculum you're already using without removing any of your school mandated programs.
The Phonics in Motion program for families provides complete teaching modules for every letter in the alphabet for simple & fun at-home lessons.
Get 10% off Sitewide at Phonics in Motion using coupon MYBARGAINBUDDYPIM10. Not quite ready to dive in? Try a Free mini lesson.
Money saving tip: Choose a yearly membership for the best value on the complete school year programs. You'll get an automatic 3 months Free!
2