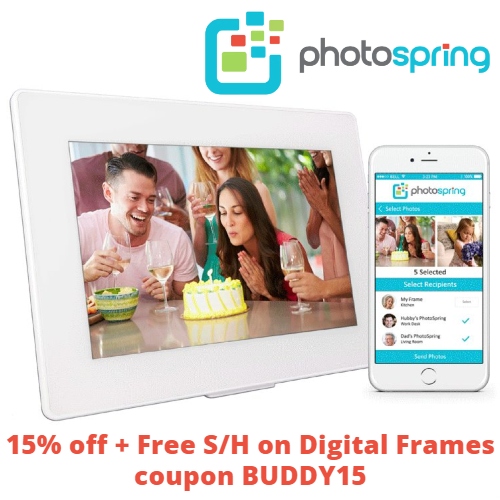 With a lifetime of great memories and multiple loved ones, it's hard to choose which photos to display, especially if you're limited on space or going for a minimalist design in your home or office. PhotoSpring digital frames are a great way to showcase all your favorite memories without having to choose!
Their digital frames come with tons of great features, including a 10 inch touchscreen with beautiful 1280×800 resolution, 16GB of internal memory to hold tons of photos, Wi-Fi connectivity, multiple connection & playlist options, and a Free smartphone app & cloud backup.
They are super easy to use! Simply connect the frame to Wi-Fi, answer a few quick questions, send your photos & videos to the frame via email, app, or web browser, and they will appear in your frame in seconds.
The frames are chic & stylish and come in your choice of white or black to fit in with any décor. For a more modern look, you can remove the frame molding and display just the photo tablet. You can choose a standard frame or a cordless frame with a rechargeable battery that lasts over 4 hours.
Gift idea – Send a frame to a loved one who lives far away and surprise them with fresh photos regularly!
Get 15% off + Free Shipping on Digital Frames at PhotoSpring using coupon BUDDY15. All frames come with a 30-day satisfaction guarantee + a 1-year limited warranty.
2