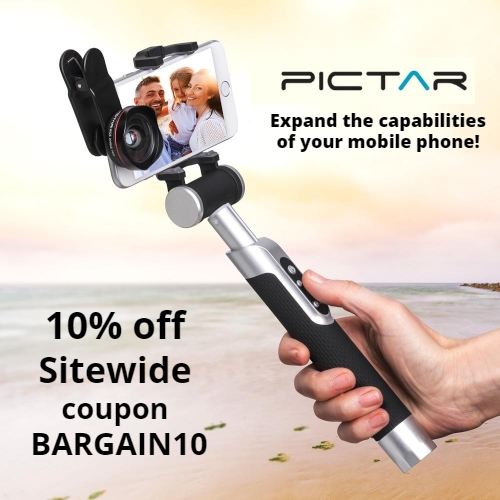 Pictar is on a mission to help people who are using mobile phones to capture extraordinary images. While phones are super convenient to take pictures with, you don't always get the quality that you would with a traditional camera. Pictar designs products that turn your phone into a proper camera! They are improving every aspect of mobile photography by providing innovative app-driven products that easily connect to any mobile phone.
Their line of smart products easily attach to your phone, turning it into a professional camera. They include features like:
• Smart Grip – gives you stability and control over features
• Smart Lens – gives you a unique point of view with an optical advantage
• Smart Light – gives you the ability to control the light wherever you go
• Smart Selfie Stick – gives you complete control over your selfies
• Flexible Tripod – gives you stability, no matter where you are or what you're doing
Although the products all work together, each product is self-sufficient and works independently, so you can choose the ones that best suit your specific needs. They also offer straps, bags, and other accessories for traditional cameras.
Check out their new Stay Home Kits, which are up to 20% off right now. These kits have everything you need to stay connected with family, make working from home more efficient, host a professional webinar, and more.
Get 10% off Sitewide at Pictar with coupon BARGAIN10. Coupon can be used on bundle deals and clearance, which are already up to 50% off before coupon! Shipping is Free on all orders.
2