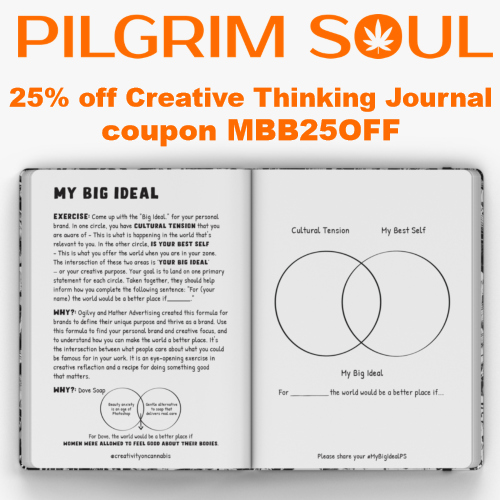 Looking for a last minute gift idea? Give the gift of creativity with the Pilgrim Soul Creative Thinking Journal. It is a guided journal filled with over 50 creative thinking exercises that will provide hours of fun, increase your creativity, and build more productive habits. This journal is conceived to be used while high – high from yoga, nature, life, and so on.
The Pilgrim Soul Creative Thinking Journal is not just for artists. It's for business people looking for a new way to close a sale; it's for engineers trying to solve a problem; it's for parents who want their children to see the world in more than one way. This journal has been recommended in Goop's 70 Best Gifts Under $100, PopSugar's 39 Dope Gifts, The Daily Beast's Gifts that Will Help Make the Holidays Feel Special and in Reader's Digest Gifts For Her Under $50.
For a limited time, you can get 25% off the Pilgrim Soul Creative Thinking Journal using coupon MBB25OFF. Shipping is $3 or Free if you order 3 or more.
1