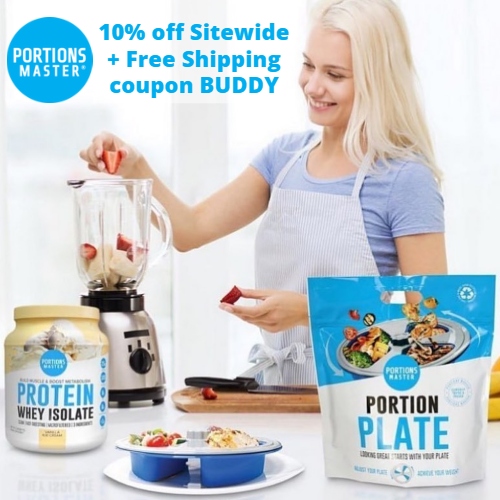 Dieting and maintaining a healthy weight can be hard! Portion control is one of the most important elements in weight loss – But let's be honest, weighing & measuring your food for every meal can be daunting and most times we don't stick with it!
Portions Master gives you a better option. Their unique portion control plate makes it easier for you to reach your goals and maintain them. The plate uses preset portion sizes for protein, carbohydrates, and greens, plus it's adjustable so you can set it to fit your exact needs to reach your goal weight.
The plate is super easy to use. Simply select your goal weight, fill in the portions with your favorite foods, and use the plate for three meals per day – No measuring & weighing and no calorie or point counting!
Portions Master also offers premium protein powder and supplements to help you get healthy and stay fit, including lean muscle building whey isolate protein, electrolytes, probiotics, metabolism boosting supplements, vitamins for overall health, anti-aging and hair, skin & nail supplements, and more.
Get 10% off Sitewide at Portions Master using coupon BUDDY. Shipping is Free on all domestic orders weighing up to 1-lb.
2