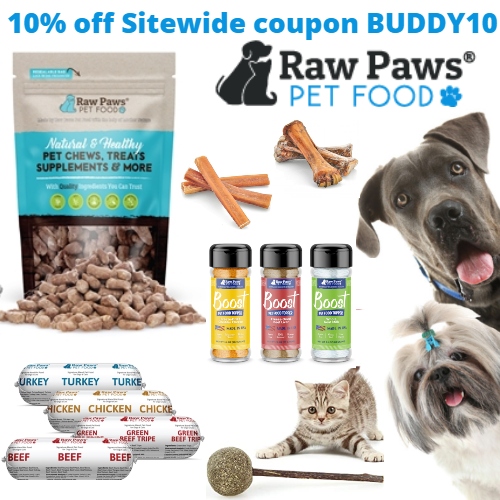 Dogs & cats are carnivores, so a raw diet is naturally what's best for them. When we feed our pets a species-appropriate diet, it helps them achieve optimal health, vibrancy, and longevity. But providing a raw diet for pets can be a hassle, not to mention extremely expensive! Raw Paws Pet Food is here to make it easier!
Raw Paws Pet Food is a family owned business providing pet owners with accessible healthy food, treats, chews, and supplements for their dogs and cats. Their products are made using only the highest quality & freshest ingredients that are sourced from small family farms proven to use responsible practices.
They offer a variety of 100% all-natural frozen raw food, freeze dried food, meaty bones, food toppers, bully sticks & other chews, a large selection of healthy treats, and a range of health supplements for things like skin & coat health, digestion, immunity, hip & joint health, and more.
Have a pet with unique dietary needs? Raw Paws Pet Food also offers a selection of special diet foods, chews, and treats.
Get 10% off Sitewide at Raw Paws Pet Food using coupon BUDDY10.
Non-frozen items ship Free on orders of $49 or more. Frozen items ship Free on orders of $199 or more. For Free shipping on frozen items under $199, check out their Frozen Free Shipping Packs that start at just $79!
Other benefits of raw diets include :
• Longer, healthier pet life
• Improved teeth & breath
• Reduced arthritis & hip dysplasia
• Improved immune system & reduced chance of disease
• Increased mental stimulation
• Reduced risk of diabetes
• Helps maintain ideal weight
• Reduced allergies (skin & food)
• Increased stamina
• Bladder control
• Fewer visits to the vet
• Lower dental bills
• Less shedding
• Healthier stool, less odor
• Reduced hyperactivity
• Prevent fleas & ticks
• Reduce or eliminate prescriptions
Not sure where to start with a raw diet? Raw Paws Pet Food provides Free meal plans! Just fill out a simple form and one of their raw feeding specialists will create the perfect meal plan for you, your budget, and your pet.
4