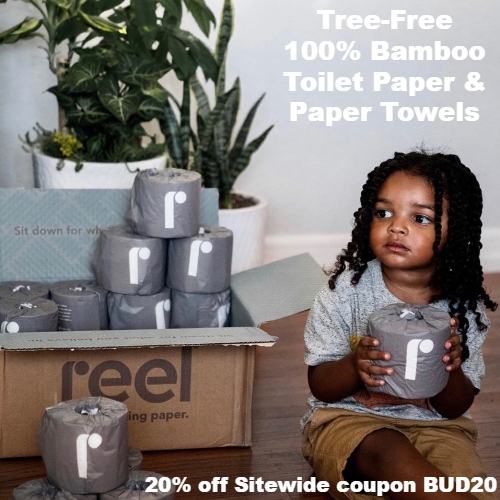 Reel makes 3-ply bamboo toilet paper and 2-ply paper towels that do good and feel good. Made from 100% sustainable bamboo, they're super soft & strong, biodegradable, and made with no inks or dyes.
Their paper products are some of the best you'll find, and they're delivered in a recyclable eco-friendly plastic-free box. They can be ordered individually or you can sign up for a subscription to have them conveniently delivered straight to your door every month so you never run out.
Get 20% off Sitewide at Reel using coupon BUD20. All orders come with a 100% satisfaction guarantee and Free shipping.
Did you know that 2.4 billion people around the world don't have access to toilets, resulting in exposure to deadly pathogens, increased risk of contaminated water, and loss of life? Reel is bringing awareness to this issue and they're on a mission to affect as many lives as possible by providing much needed access to clean toilets for those without. By purchasing Reel products, you are a part of providing access to clean toilets for those in need around the world, while also reducing your own carbon footprint.
5