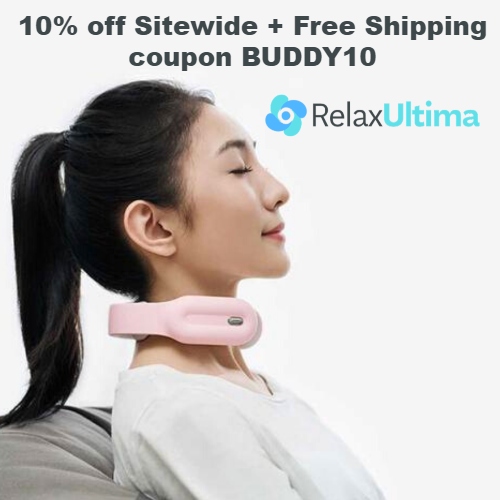 RelaxUltima provides an alternative to addictive painkillers, expensive trips to the spa, and gimmicks that just don't work, to reduce neck pain and discomfort. The RelaxUltima Neck Massager uses cutting edge technology to reduce neck pain, stiffness, soreness, and tightness.
RelaxUltima uses 107°F heat plus TENS technology (gentle electric pulses) to support muscle pain reduction, deep relaxation, and stress reduction. Their one size fits all design is lightweight, easy to use, and portable, so you can have relief anytime, anywhere. It features 3 modes and 15 intensity levels that allow you to find the setting that's just right for you. You can choose between tapping, shiatsu, and acupuncture therapy.
Right now, a single massager is 50% off, a 2-pack is 60% off and a 3-pack is 65% off + you can get 10% off any order at RelaxUltima using coupon BUDDY10. All orders ship Free – No minimum required. RelaxUltima comes with a 30-day satisfaction guarantee and a 1-year warranty.
2