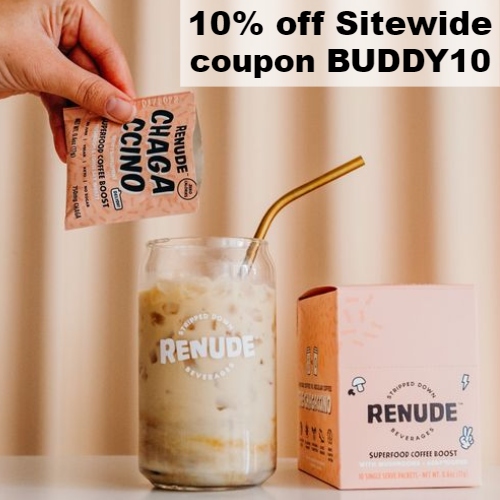 Renude offers a healthy and delicious way to transform your coffee – the Chagaccino. What is a Chagaccino? It's your coffee's new BFF! The Chagaccino is the health & wellness version of the mocha latte spiked with an effective dose of chaga, one of the planet's greatest adaptogens. This mushroom-based adaptogenic coffee boost transforms your typical coffee into a sugar-free, vegan, keto-friendly latte. And the best part is, it's not only good for you, it tastes great, too!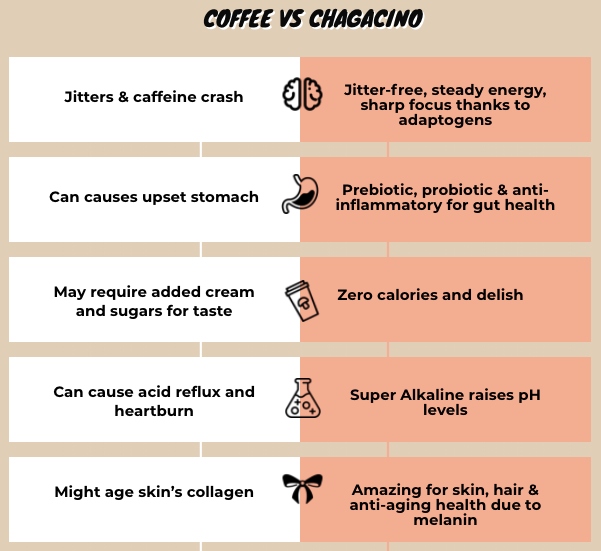 What is Chaga? Chaga is an ancient elixir that has been used by indigenous peoples for centuries. Benefits of Chaga include stress relief, gut health, alkalinity, immunity, improved cognitive function, provides energy & endurance, anti-aging benefits, and it's the highest natural source of antioxidants.
Why choose Renude's Chagaccino? –
Taste – Made with all organic ingredients like Peruvian Cacao and Ceylon Cinnamon, you'll forget that you're sippin' on something containing the world's healthiest mushroom. Creamy and subtly sweet with no additional sweeteners or additives, the Chagaccino checks all of the boxes to become your favorite mushroom coffee. It has the flavor of a mocha, with a little spice, and no guilt! A Chagaccino is great hot or cold!
Premium Quality – Renude believes that sourcing premium ingredients makes all the difference, not only in taste, but in effectiveness and quality that sets the Chagaccino apart. That's why their blend of wild-foraged Chaga from British Columbia, combined with only the highest quality organic ingredients, has proven to be the health and wellness industry's most trusted healthy latte. They go the extra mile to lab test their products to ensure the highest bioavailability and cleanest Chaga, so you can trust what you're putting in your cup.
Easy To Make – Perfectly portioned into a single serving with an effective dose of Chaga, you're only 3 simple steps away from creating a delicious and healthy treat. With Renude's potent blend of ingredients, they've taken the guess work out of your wellness routine, so all you have to do is mix, sip, and enjoy the benefits!
Redifining Wellness – Renude understands that the term "wellness" means something a little different to everyone, so they created the Chagaccino to spread wellness to the masses, with a handful (or two) of health benefits for everyone. Whether you're a competitive athlete, mom of three, or a techie working 9-5, the Chagaccino was designed to help you feel and perform your best, no matter what you're doing!
Get 10% off Sitewide at Renude using coupon BUDDY10. Shipping is a flat rate of $4.99 for 1 box and $9.99 for 2 or more boxes.
5