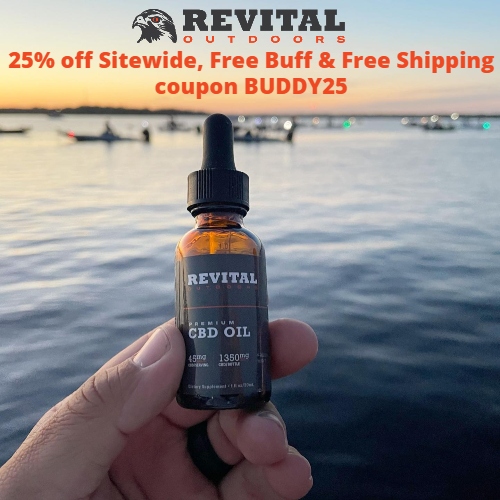 Revital Outdoors is a premier health and wellness CBD brand for outdoor enthusiasts that was founded after recognizing a series of problems in the outdoors industry. To name a few – Bass anglers cast over 3,000 times per tournament day. Hunters hike rugged terrain while hauling their tree stands, backpacks, and bows. Saltwater anglers endure 5-foot seas during long commutes, for the chance to fight wahoo for hours. These activities are notorious for shoulder, wrist, hand, back, knee, and joint pain. To combat these impediments, outdoorsmen historically turned to over the counter pain relievers that can be bad for health and don't fix the problem.
Revital Outdoors has a healthier and more effective solution. Their premium line of CBD products provides all-natural, all-inclusive solutions for the ailments many outdoors enthusiasts face, making it no longer necessary to take one supplement for one ailment and a different supplement for another.
Their product line includes CBD oil tinctures, soft gels, gummies, CBD cream, and CBD dog treats for your outdoor companions.
Get 25% off Sitewide and a Free Revital Outdoors Branded Buff ($9.99 value) at Revital Outdoors using coupon BUDDY25. All orders ship Free – No minimum purchase required. All products come with a 30-day money back guarantee.
Revital Outdoors hemp is exclusively cultivated in the USA using best in class farming practices. Starting with nutrient rich soil preparation and an all-natural proprietary growing process enables them to avoid the use of herbicides and pesticides. Their hemp is grown in a way that maximizes cannabinoid and terpene production. All products are 3rd party lab tested for safety & purity.
2