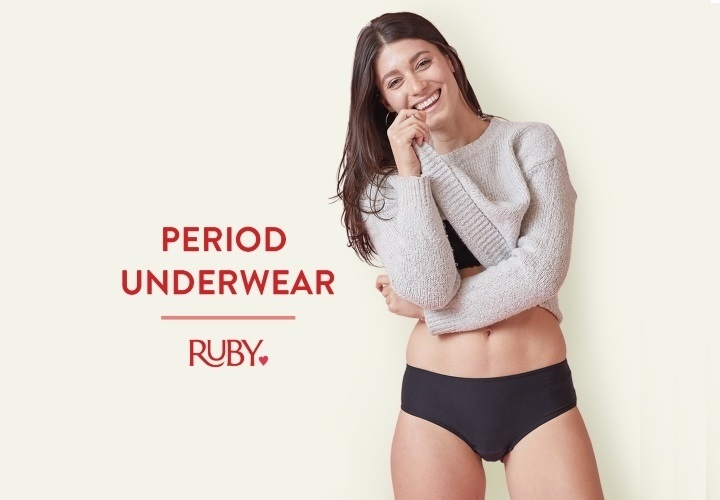 COVID-19 and the resulting stay-at-home orders have many women rethinking the way they deal their periods. If you've made a trip to the store during the last month or so, you know that toilet paper isn't the only thing missing from the shelves. Even if you're one of the lucky ones who had the foresight to stock up before most of the feminine hygiene products disappeared, replenishing could still be a challenge. Enter Ruby Love.
Ruby Love has created an innovative solution to the nearly inevitable leaks and stains that come being female. Founded by Crystal Etienne in 2015, her mission was to create apparel that brought priceless peace of mind so that periods or incontinence would never stop women from doing, being and going. With years of fine tuning their leak-proof technology, they've created a wide range of apparel to make period-days just like every other day.
By now, we all know the risks associated with tampons. Most of the well known brands are bleached and made with ingredients that are not disclosed or even regulated by the FDA. I don't mean to alarm you, but this is VERY scary. Why are we able to know exactly what's in Cheez Whiz (27 different ingredients, in case you're curious), but the components of tampons are kept top secret? Tampons can also increase the risk of bacterial infections. On top of the inherent dangers to the body, over 45 billion period products are thrown away every year.
Thankfully, we live in a time where we can say no more waste, no more danger, and no more worry! Ruby Love's products provide safe and comfortable, leak-proof, odor-free protection for EVERYONE. Their unique offerings range from underwear, swimwear, sleep boyshorts, and even activewear. All providing you with discreet protection.
Ruby Love's top selling period underwear, offer 2.5 tampons worth of absorbency and are curved to fit the shape of your body. Made from five layers of tediously cultivated period-proof technology, they collect your flow without the need for tampons, pads, or menstrual cups. Their underwear contains no plastics, no polyurethane, and hosts no odor. They are reusable, requiring just a simple machine wash and dry.
Ruby Love period panties last an average of 3 years. That's about the equivalent of 700 pads or 800 tampons! Get $5 off your order of $25 or more using coupon SAV5. Shipping is $7.95 or Free if you spend $65 or more. International customers can get 50% off standard shipping on orders $65 and up.
Sign up for my email newsletter to get tips like this delivered to your inbox!
7