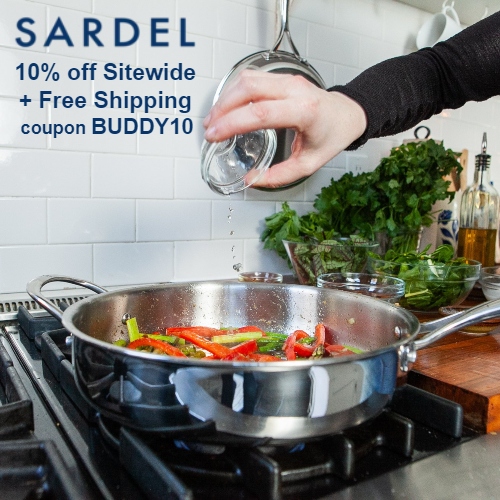 We're all making a lot more meals at home this year and we probably will be for the next 6 months or longer. If you don't love your cookware, now's a great time to upgrade – totally risk-free!
Sardel sells high-quality, Italian made cookware. Their cookware line is beautifully classic in design, crafted with high-quality materials, and vastly more affordable than other high-end brands.
Their non-stick skillets are PFOA free, they have heat resistant handles, and they are dishwasher & oven safe up to 480 degrees Fahrenheit. Their stainless steel reinforced non-stick coating is one of the strongest, scratch-resistant coatings on the market. The unique honeycomb pattern also creates a surface that is exceptionally durable and easy to clean.
Their full line of stainless-steel cookware is dishwasher & oven safe up to 500 degrees Fahrenheit. They are designed with 5 layers of metal – Three inner layers of aluminum called the core, and two outer layers of stainless steel. This 5-ply construction allows for effective heat distribution and durability, including protection against warping – making them strong enough to last a lifetime. They also have heat resistant handles, and they are incredibly easy to clean with just a little bit of soap and water. No scrubbing needed!
Sardel's goal of improving the cooking experience also includes offering a curated selection of essential ingredients like olive oil, and balsamic vinegar through Sardel Market. They have traveled Italy searching for local producers of high-quality products and carefully selected their partners to proudly bring the taste of Italy to your kitchen.
Get 10% off Sitewide + Free Shipping at Sardel using coupon BUDDY10. All cookware comes with a 30-day risk-free trial – Try their cookware out for 30 days. If you don't love it, send it back to them, no questions asked, with Free return shipping! All cookware is also covered by a limited lifetime warranty.
Bobby Flay recommended Sardel Cookware in his Christmas Gift Guide last year!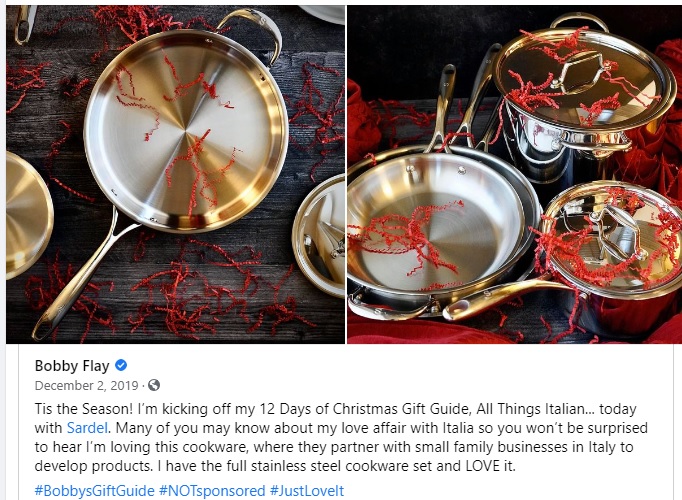 More about Sardel –
Sardel was founded by three brothers that believe preparing meals should be as simple and rewarding as eating them. Their favorite family memories were born in the kitchen and they want to help people return to a time when gourmet home cooking wasn't so serious, expensive, or intimidating.
Sardel partners with small family businesses in Italy to develop products that are native to their local communities. They have developed personal relationships with their partners and their goal is to share their family traditions with you.
Their cookware partner is a third generation family business that has been manufacturing steel products in the same area since the early 1900's. They worked with them closely to design products that blend their traditional craftsmanship with a modern twist, from heat-resistant handles to the unique honeycomb pattern on their non-stick cookware.
Their olive oil partner's family started farming on wheat fields in the 1920s in the small town in Puglia, Italy. In the 1970s, they introduced olive groves to their farm. In 1998, they transitioned to an environmentally friendly and natural approach to their farming and received an organic farming certificate. In more recent years, they've introduced new olive trees and additional products, some of which Sardel plans to bring to you soon. Stay tuned!
3