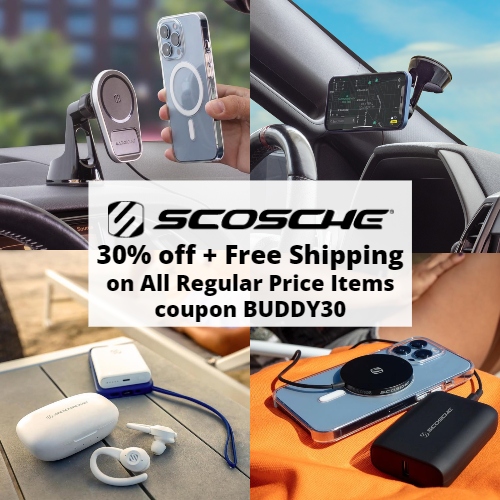 Scosche Coupon
Today: 30% off + Free S/H on All Regular Price Items
Coupon: BUDDY30
Expires: 12/31/22
SHOP NOW
Scosche is a tech accessory brand that was born from a passion for cool vehicles, amazing sounds, the great outdoors, and travel. Their mission is to help you follow your passions by providing the accessories that allow you to power your phone, use it hands-free while you drive, listen to great music anywhere, monitor your heart rate, film your ATV ride, and more.
Scosche is the top selling cell phone mount & FM transmitter brand in the U.S. and Canada. All of their products are built with a commitment to innovation, quality, safety & value and are backed by a 60-day 100% money back guarantee.
Their extensive product line includes a large selection of cell phone mounts, chargers, Bluetooth audio devices & accessories, car audio products, vehicle cameras, heart rate monitors, sanitizing & air purifying devices, and more.
Their award-winning MagicGrip mount takes wireless charging to the next level. It can sense when a Qi-enabled phone is aligned over its charging coil and automatically closes its "arms" to securely grip and charge your phone. All you have to do is hover your phone over the charging head!
The auto-grip feature ensures you'll always have optimum placement for super fast charging as well as full device visibility. The charging head rotates 360° so you can view your phone in landscape, portrait and any angle in between. It's perfect for vehicle, home, and office use.
Get 30% off all regular price items at Scosche using coupon BUDDY30. All orders ship Free – No minimum purchase required!
Check out their Holiday Gift Guide for easy gifts that are sure to please everyone!
3