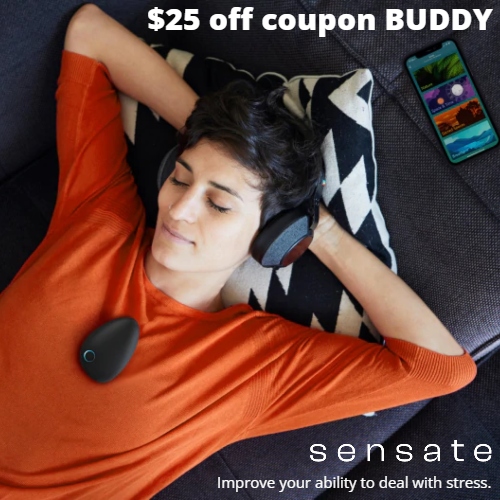 Stress and anxiety effect every area of our lives. They leave you scatterbrained, tired, and irritable, not to mention the effects they have on overall health. Sensate is here to help! Their mission is to empower people to take charge of their own well-being without having to rely on extensive meditation training, medications with harmful side effects, or invasive therapies.
Developed by physicians and clinically tested, Sensate combines age-old wisdom with state-of-the-art technology to give you a safe and soothing device that is proven to calm nerves and help your nervous system recover from the stresses of daily life.
Sensate is a smart touch infrasonic therapy device that emits precisely engineered sound waves directly into the body, sending a powerful, stress-alleviating signal directly to your autonomic nervous system. This patented technology delivers an immediate calm and builds stress resilience over time with regular use.
The convenient wearable design allows it to comfortably sit on your chest while the comforting hum taps into your ancient instincts of safety and relaxation. All you have to do is find a comfortable place to lie down or lean back, put your Sensate and your headphones on, choose your session on the Free Sensate app, and relax!
You can use Sensate as powerful boost to start your day with focus and purpose, as a quick mid-day recharge, as part of your bedtime routine for improved sleep and renewal, and anytime you're feeling stressed or anxious.
Get $25 off each Sensate you order using coupon BUDDY. The Sensate device comes with a lanyard, carry pouch, eye mask, user guide and charge cable.
Sensate comes with a 1-year warranty and a 40-day worry free guarantee. If you don't get the results you were hoping for or decide it's just not for you, just send it back within 40 days for a full refund.
You know those knots you get in your stomach when you're stressed? That's the vagus nerve in action. This cranial nerve allows the main organs of the body to communicate and is responsible for the way your body reacts to stress, so toning this important nerve can play a huge role in improving stress management as well as digestion, heart health and breathing rate.
The vagus nerve regulates sympathetic and parasympathetic responses. The sympathetic nervous system drives the "fight or flight" response in stressful situations, while the parasympathetic nervous system manages our "rest and digest" state. Sensate taps into the phenomenon of bone conduction. The mix of infrasonic frequencies and sound design send a powerful signal throughout the body. Your chest resonates the sound, sending out a frequency that signals the vagus nerve to relax.
Stress resilience is the body's ability to recognize a challenging situation and choose a positive way to respond to it, meaning the body will return to a state of equilibrium faster. By using Sensate, you can tone your vagus nerve which will help regulate your nervous system and build your stress resilience.
3