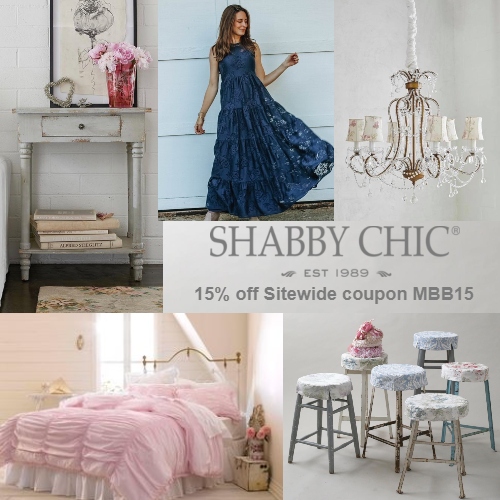 Shabby Chic opened August of 1989 in Santa Monica, California selling machine washable slipcovered furniture and vintage accessories. Today, they offer luxury custom-look home furnishings and other products that are reminiscent of years gone by.
Shabby Chic prides itself on continuing to sell products that gather memories and have the quality and aesthetics to become heirlooms. They use the best woods and construction available and they painstakingly restore vintage treasures while protecting the character of time worn beauties. All vintage accessories are handpicked, and any piece of slipcovered/upholstered furniture can be customized.
While they started with furniture, they now offer a huge range of "Shabby Chic" products, including bedding, vintage art and décor, candles, rugs, a clothing line, and much more.
Get 15% off Sitewide at Shabby Chic using coupon MBB15. Coupon will work on sale items, which are already up to 50% off. Most furniture, slipcovers, and cushions come with a warranty against defects in materials and workmanship. Shipping is $8 or Free on orders over $250.
4