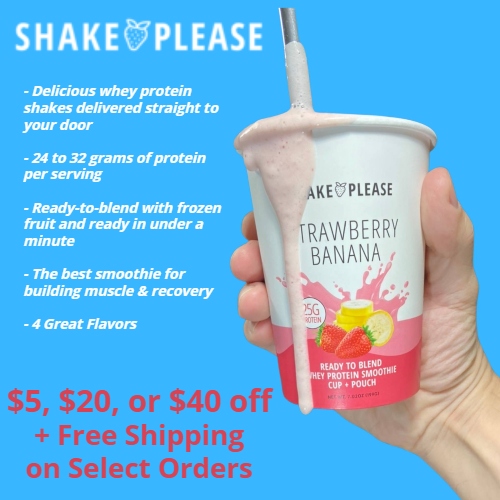 Protein shakes have many health benefits and are a great option for post-workout recovery and muscle building. But it's hard to find one that has the protein you need that actually tastes good. Shake Please has a better option! They deliver ready-to-blend whey protein shakes that are nutritious & delicious, straight to your door.
Each shake provides 24 to 33 grams of protein per serving and comes with a convenient cup filled with frozen fruit to give you a smoothie that is healthy, tastes great, and helps you build muscle, recover faster, feel full longer, and boost your immunity.
Their shakes can be conveniently stored in your freezer and are ready to drink in less than a minute, so you can have a fresh, fast protein shake whenever you need it. Just fill your cup with your preferred liquid (water is recommended) 3/4 of the way to the top. Toss the contents of the cup and protein pouch into a blender, blending until smooth. Pour the smoothie back in the cup and enjoy!
Shake Please smoothies come in four delicious flavors – Strawberry Banana, Chocolate Peanut Butter Banana, Vanilla Berry, and Pineapple Berry.
Shake Please subscriptions are easy! Just choose a weekly or monthly plan (you can select 8, 16, or 24 cups weekly or monthly), pick your flavors, choose a delivery day that works best for you, and your smoothies will be delivered straight to your door. You can easily skip a month, pause, or cancel anytime through your online account.
Get $5, $20, or $40 off your first Shake Please order using one of the coupons below! Shipping is Free to select states on boxes of 8 or 16 and boxes of 24 ship Free to all states.
Coupons:
$5 off 8 Smoothies coupon BUDDY5
$20 off 16 Smoothies coupon BUDDY20 (on top of automatic $10 off)
$40 off 24 Smoothies coupon BUDDY40 (on top of automatic $20 off)
1