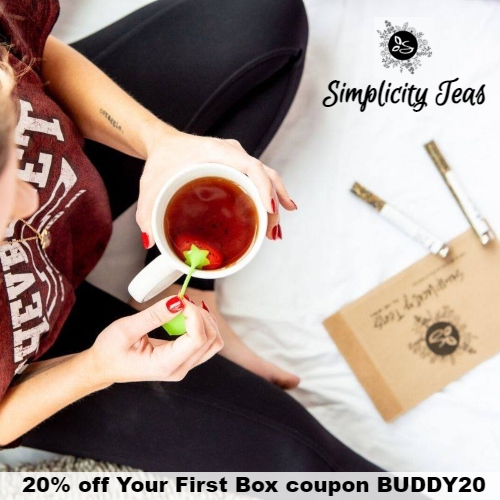 Simplicity Teas is not your average monthly tea box. They are the #1 rated Tea of the Month Club! Each of their purpose themed boxes comes with 2-4 artisan loose-leaf teas & a tea accessory, and your first box comes with a unique tea infuser as well! Each month you'll receive a package of artisan loose leaf teas hand-curated by tea experts. Each tea is created with a purpose, such as optimized digestion, a mid-day pick-me-up, or a nighttime tincture to help you get the best sleep of your life. But just because they're healthy & purposeful doesn't mean they skimp on taste! All of their teas are also delicious!
Simplicity Teas only sources high-quality loose-leaf tea, so you know you're drinking the best! Their teas are created in small batches, packaged with care, and delivered straight to your door each month.
Simplicity Teas subscriptions are easy, affordable, and you can pause or cancel anytime by simply sending them an email. They have two packages to choose from:
Mini 2 Teas of Month – The mini package comes with 2 specialized loose-leaf teas packaged in bags and/or vials (a reusable infuser is included in your first package). Each package makes 15-20 cups of tea. This subscription is only $7.20 + shipping for your first month with coupon BUDDY20 and $9 + shipping each month after that.
Tea Lover Teas of the Month – Drink a lot of tea? Upgrade to the Teas Lover package! This package ships Free and contains 4 full-sized teas (30-40+ cups of tea with a combination of large vials and bags). The initial package comes with the reusable infuser and deluxe box packaging. This option is only $16 + Free shipping for your first month using coupon BUDDY20 and $20 + Free shipping each month after that.
Get 20% off Your First Box at Simplicity Teas using coupon BUDDY20. For extra savings, consider a prepaid plan on the Tea Lover package. Coupon is not valid in Simplicity Teas One Time Shop.
Simplicity Teas subscriptions make great gifts for the tea lovers in your life!
2