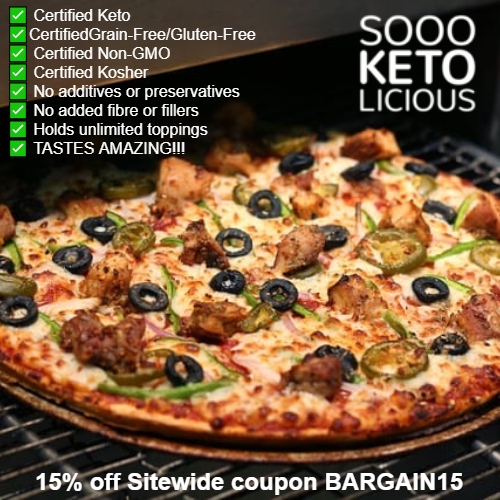 Sooo Ketolicious makes delicious ketogenic, low carb, and paleo-friendly pizza crusts. Unlike other low carb crusts that can be soggy, don't hold together and taste like cardboard, Sooo Ketolicious crusts are tasty, crunchy and designed to hold unlimited toppings, so you can pile on your favorites, with no fear of your pizza falling apart! They offer regular pizza crusts and premium ketogenic dessert crusts in chocolate and vanilla.
All of their products are made with minimal natural ingredients, without any processed powders, added fibers, or fillers of any kind and they are certified keto, non GMO, grain free and gluten free. Sooo Ketolicious crusts can be frozen for up to 9 months!
Get 15% off Sitewide at Sooo Ketolicious using coupon BARGAIN15.
5