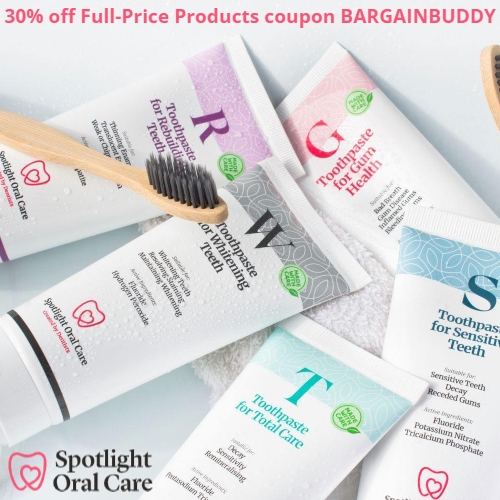 Created by sisters & dentists, Dr. Lisa and Dr. Vanessa Creaven, Spotlight Oral Care was born out of frustration at the lack of clean, safe, and affordable products available for their patients to use at home. They wanted products they could feel good about recommending to patients – so they created them!
The lining of your mouth is 50 times more absorbent than your skin, so what goes in your mouth is very important. All Spotlight Oral Care products are formulated with clinically proven ingredients that are safe, effective, and provide real results.
Their innovative oral care products are designed to address specific concerns, including sensitivity, gum health, whitening, pregnancy, cavities, bad breath, and thinning enamel.
Their product line includes toothpastes, mouthwash, a variety of whitening products, sonic & bamboo toothbrushes, water flossers & whitening dental floss, and more.
Get 30% off full-price products at Spotlight Oral Care using coupon BARGAINBUDDY. Shipping is $5.95 or Free on orders of $50 or more.
Bonus: Orders over $15 come with a Free toothpaste ($10 value). Toothpaste will be automatically added to your cart when you reach $15.
Spotlight Oral Care products aren't just good for you, they're good for the environment, too! Their toothpaste tubes are made from a by-product of sugarcane, which is carbon negative, and their floss for whitening teeth is made from recycled plastic.
1