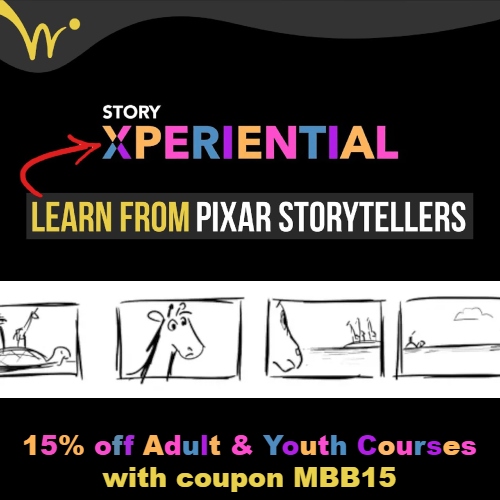 Developed by award-winning veterans from Pixar and Khan Academy, Story Xperiential takes you behind the scenes with world-class storytellers to help bring your own story to life.
You'll follow the storytelling process as practiced at Pixar to create a storyreel of your own short story with lessons and livestreams with pros from Pixar, Blue Sky Studios, Dreamworks, Netflix, Baobab Studios, Locksmith Animation, and more.
At every step, you'll give and receive ongoing feedback in their global creative peer community. And at the end, your work will be showcased in an online exhibition featuring Story Xperiential awards. Completing the program earns you a Story Xperiential certificate and dedicated page for your work.
Get 15% off Adult & Youth Courses at Story Xperiential using coupon MBB15. Programs are on demand, so you can start at any time! Once you start you can work at your own pace towards an exhibition deadline of your choice (May, Aug, Dec).
1