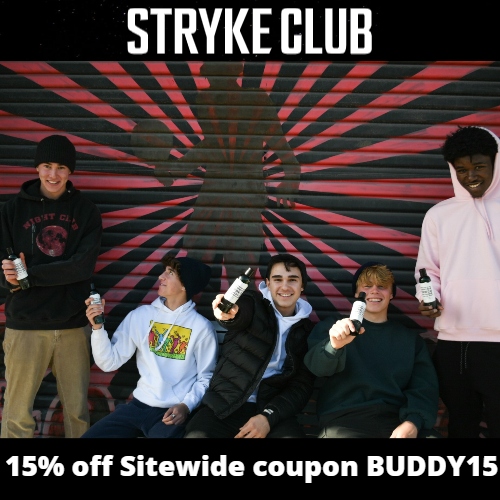 Stryke Club offers dermatologist formulated skincare products for boys. Founded by four moms who noticed that most skincare products are made for girls, Stryke Club's mission is to help guys feel confident through their simple and effective grooming products. From acne to body odor to chapped lips, not to mention shaving, teen boys have a lot to deal with! Why should they have to borrow from the girls to get quality products? With Stryke Club they don't have to!
Stryke Club products are formulated to be:
Effective – All Stryke Club products kill bacteria associated with breakouts, without dryness or irritation.
Safe – Because safety is non-negotiable, they formulate all of their products without parabens, sulfates, phthalates, and their formulas are proudly cruelty-free.
Easy to Use – Stryke Club knows boys don't want an elaborate grooming routine. That's why they build products that fit into their lifestyle: fast, effective, discreet, and unfussy.
Less Embarrassing – They call it "Locker Room Worthy". With scents (or no scents), packaging, and branding designed just for guys, teens can feel confident using their skincare products anytime, anywhere.
Stryke Club's product line includes:
Calm Down Moisturizer – This lightweight moisturizer is specially formulated with sodium hypochlorite to help keep your skin clear and calm. It functions as a protective shield for your skin against dryness and pollutants. It actually fights acne and dry skin at the same time! It's airy enough to feel like you're not wearing anything, yet buildable if you prefer heavier moisture.
Face First Wash – Face First, because your face is the first thing people see. It's specially formulated with an innovative ingredient designed to eliminate the bacteria that can cause breakouts. The idea is to stop skin problems before they start.
Everywhere Wash – Your face isn't the only place you can have skin problems. Use Everywhere Wash regularly on your face and body to keep all of your skin clear.
Stryke Stick – Since breakouts always seem to happen at the worst possible moment, you'll want to keep a Stryke Stick around. This portable spot treatment uses salicylic acid to clear acne in a hurry. Just apply it on your pimples 2x daily and watch them disappear. And unlike some acne treatments, it dries clear, so you can go about your life looking like your normal self.
Stay Smooth Lip Balm – Their deliciously minty flavor meets super hydration for a refreshing balm you will want to swipe again and again. Stay Smooth Lip Balm repairs chapped, cracked lips while sealing in moisture.
Wipe Out Cleansing Wipes – Ditch the gunk and grime of the day with a quick swipe of Stryke Club's refreshing Wipe Out towelettes. Use post workout or at the start of the day for a clean base. It is formulated with biodegradable plant based ingredients, so you won't experience the roughness and redness common with other cleansing wipes.
Get 15% off Sitewide at Stryke Club using coupon BUDDY15. All products come with a 30-day satisfaction guarantee. Coupon is not valid on subscription orders.
Want to try the wholeline of Stryke Club products? Check out their Whole Nine Yards Kit. You can get one of each product for only $55.25 with coupon BUDDY15.
2