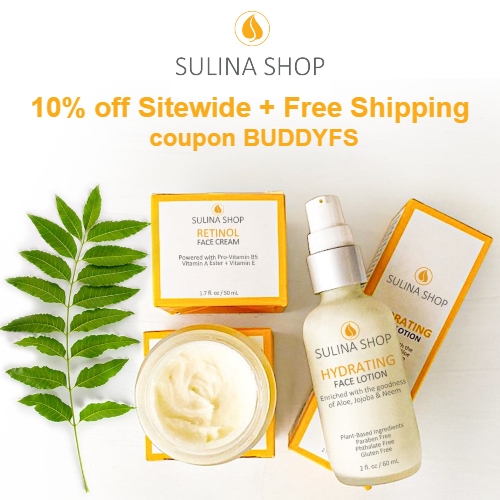 Sulina Shop believes in natural, organic and Ayurvedic products that make your hair, skin, and body look and feel beautiful inside and out without the use of harsh chemicals. They strive to introduce new and existing ingredients that help improve the health of your skin and hair with the highest quality natural and organic ingredients.
Ingredients like Moringa, Neem, Turmeric and Tulsi, have been used for centuries in Ayurvedic skin care and long held to be the secret to youthful, glowing skin. Sisters Susan, Shelina and Rovina started Sulina Shop to bring awareness to the profound health benefits of these products and make them available to everyone.
They offer a wide range of bath and body products including face oils, lip balms, face masks, toners, moisturizers, facial soaps, bath salts, body creams and scrubs, deodorant and more.
Get 10% off Sitewide + Free Shipping at Sulina Shop using coupon BUDDYFS. All products come with a 30-day satisfaction guarantee.
3