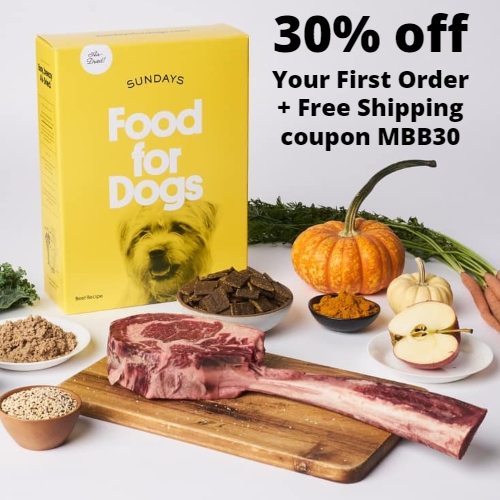 Sundays for Dogs was founded by veterinarian & engineer couple, Michael & Tory Waxman. After one of their pups got sick, they went in search of a better dog food – something healthier than kibble, but easier than home-cooked foods. When they couldn't find what they were looking for, they decided to make it themselves.
Their air-dried dog food provides an alternative to kibble that's healthier, tastier, and just as easy. Unlike other human grade foods, there's no refrigeration needed and no prep or clean-up. Just pour it into a bowl like you would with kibble and watch your pup enjoy!
Sundays dog food is made with only 100% natural, human grade ingredients, like USDA beef, quinoa, pumpkin, wild salmon oil, zucchini, kale, flaxseed, and turmeric. In fact, Sundays is 1 of only 2 foods available in the U.S. that offers complete and balanced nutrition with zero synthetics!
Sundays unique air-drying method gently dehydrates food low and slow to preserve nutrients and flavor while killing germs and giving it a jerky-like texture that dogs love. It's the best of both raw and home-cooked dog food.
Use this handy tool to see how your current dog food stacks up to the nutrition in Sundays.
Get 30% off your first order at Sundays for Dogs using coupon MBB30. All orders ship Free – No minimum purchase required!
For the best deal consider a subscription. You'll get an automatic 20% off every shipment and ensure your pup never runs out. There are no commitments. You can pause or cancel anytime.
Sundays Dog Food comes with a 14-day satisfaction guarantee. If you're not happy with it for any reason, just let them know within 14 days and they'll refund your money.
4