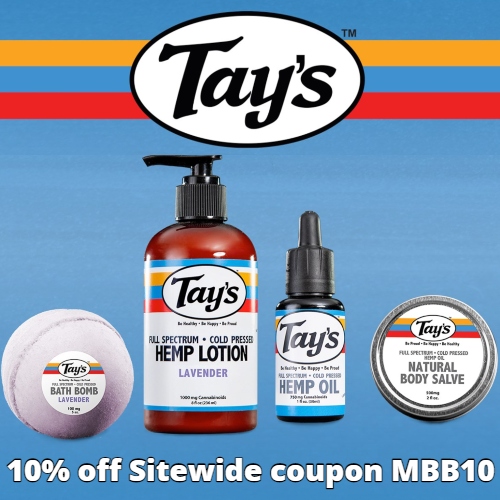 Tay's Hemp offers pure, full-spectrum CBDA hemp products. Their organically-grown, full spectrum hemp extract is all-natural, raw, cold-pressed, and packed with CBDA & other cannabinoids to create premium products with maximum benefits.
Not only does their cold-pressed hemp extraction remove hemp oil from the plant in the cleanest way possible, but their products are also tested for 120 different toxins to ensure you get the purest hemp in every time.
Their hemp oils are available in multiple strengths from 500mg to 2000mg and their gummies come in great flavors, like peach-mango, blackberry, fruit punch, and green apple.
Their line of premium CBDA skincare products includes body salves & sports sticks, lotions, soaps, lip balm, and bath bombs. They combine their pure hemp extract with other beneficial ingredients, such as shea butter, aloe vera, tea tree oil, and coconut oil, to help with things like eczema & psoriasis, fine lines & wrinkles, acne, sun protection, dry skin, pain & inflammation, and more.
Get 10% off Sitewide at Tay's Hemp using coupon MBB10. Shipping is Free on orders of $100 or more.
All-products are organic, non-GMO, gluten-free, 3rd party tested for safety & quality, and made in the USA.
What is CBDA? CBDA is a pure, clean, raw cannabinoid that displays a greater bioavailability than CBD, meaning more of the compound reaches the bloodstream faster. It was long considered to be an inactive compound, but recent research has shown that CBDA could actually be more beneficial than CBD.
2