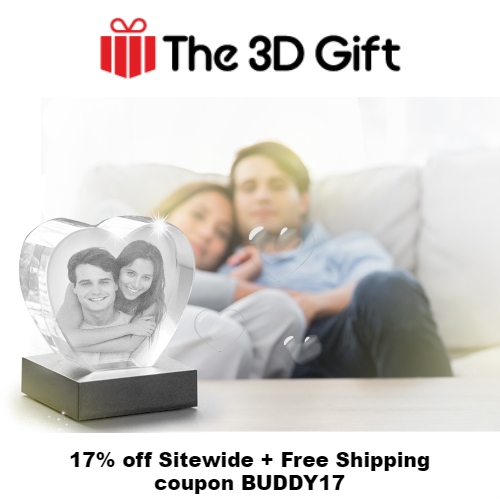 The 3D Gift creates gifts that are both mesmerizing and personal. They turn your favorite memories into a beautiful piece of 3d crystal art. Their gifts are made of the finest crystals available and with a wide variety of crystal shapes and sizes, they can engrave almost any photo, design, or logo in it.
Using sophisticated a computer software program, your 2D photos & images can be modeled into a three-dimensional design. The 3D image is then etched with a high-quality green laser, turning it into a flawless piece of optically clear solid crystal that can last forever. These wonderfully unique pieces of art make awe-inspiring gifts for all occasions, as well as great awards!
The entire site is up to 30% off + you can get an extra 17% off your order at The 3D Gift using coupon BUDDY17. All orders ship Free and come with a money-back guarantee.
7