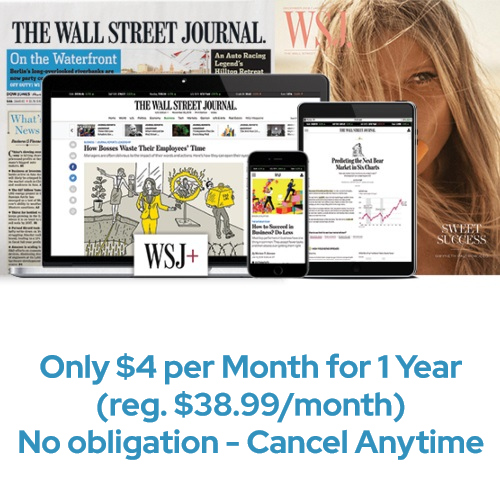 The Wall Street Journal is an important source of business and financial news. Hour by hour, they break news and deliver analysis and commentary that moves markets, influences business leaders and gives policy makers pause. But they also do much more. The Journal provides intelligent and enlightening coverage on everything from foreign policy to second homes, from Napa wines to the NFL.
Subscribe today and pay just $4 per month for 1 year to get unlimited digital access. There is no obligation and you can cancel anytime.
A WSJ Digital Bundle including Barron's and MarketWatch is also on sale. It's just $6 per month for 1 year (reg. $49.99/month) and also has no obligation.
Interested in print membership options? Current online specials include –
Monday to Saturday Print + WSJ Digital : $29.99/month (reg. $49.99/month
Monday to Friday Print + WSJ Digital : $28.79/month (reg. $47.99/month)
Saturday Print + WSJ Digital : $24.59/month (reg. $40.99/month)
24