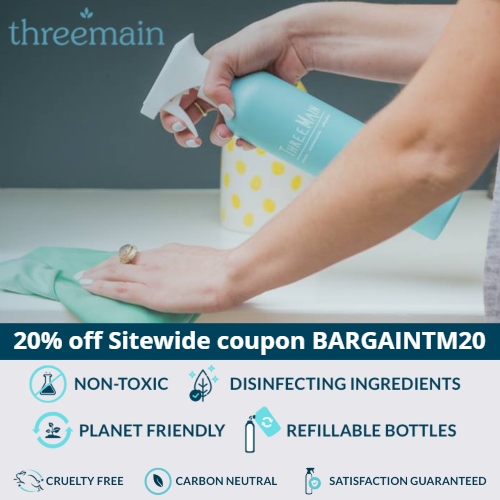 ThreeMain offers a better approach to cleaning with their eco-friendly and non-toxic cleaners and soaps. Their products are carefully formulated with people and pets in mind, with no parabens, formaldehyde, phthalates, glycol solvents, artificial colors, perfumes, dyes, or VOCs. ThreeMain uses only safe and effective disinfecting ingredients, like hydrogen peroxide, citric acid, and organic lemon oil in their cleaners and organic essential oils and moisturizing hyaluronic acid in their soaps.
ThreeMain is also working hard to protect the environment. They use reusable and recycled materials in everything from their bottles to their boxes. Their products come in refillable, reusable, aluminum "Eternity Bottles" that are durable, recyclable, made in the USA, and shipped right to your door in sustainable packaging. Their Eternity Bottles come with a lifetime warranty and are easily refilled with their recyclable refill pouches.
ThreeMain offers multi surface cleaner, bathroom cleaner, and liquid dish soap in a refreshing lemon scent. Their nourishing hand soap comes in a great Lavender & Litsea scent and is as safe for your hands as it is for our ecosystem. They also offer eco-friendly cleaning accessories, like sponges, scrubbers, and towels.
You can make a one time purchase or for extra savings, check out their Starter Kit subscription (it's just $21.59 shipped with coupon BARGAINTM20). You can customize your subscription to fit your exact needs, getting refills sent to you every 1, 2 or 3 months, and you can cancel at anytime. There are no long term contracts or hidden fees.

Get 20% off Sitewide at ThreeMain using coupon BARGAINTM20. All products come with a 30-day satisfaction guarantee. Shipping is $4.99 or Free on orders of $25 or more.
More about ThreeMain's conservation efforts –
As of February 2020, ThreeMain is a carbon neutral company! Founders Joe and Lauren are on a mission to tackle two problems affecting our families, friends and the planet – plastic & toxins. While They're busy eliminating plastic in the household with their cleaning products, they know that is not enough. There is an incredible amount of plastic pollution that exists already, but they believe the damage can be undone. That is why they donate 3% of all sales to organizations cleaning and protecting the ocean.
Making their refill pouches recyclable wasn't enough. They have gone the extra mile to ensure their products are recycled properly with their Zero-Waste Recycling Program. If your local recycling program doesn't accept the pouches (#7 plastics), ThreeMain's got you covered! Simply email them at recycle@threemainproducts.com and they'll reply to you with a pre-paid return recycling label. Once you've filled a shipping envelope with your empty refills, drop it into any USPS pick-up, and they'll do the rest!
1