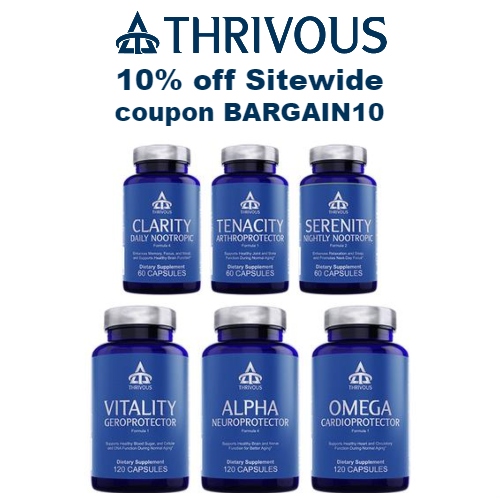 In life, we all have goals that depend on our bodies and brains. We work, learn, and love better when our bodies and our brains function better. Thrivous can help.
Thrivous has developed the most advanced and highest quality natural nootropic and geroprotector supplements on the market. Nootropics are cognitive technology that support healthy brain function and enhance mental ability. Geroprotectors are longevity technology that support healthy aging and promote healthy life extension. Both help enhance brain and body function, memory, sleep, and promote healthy life extension.
Get 10% off Sitewide at Thrivous using coupon BARGAIN10. Your first order is backed by a 100-day money back guarantee and all subsequent orders are backed by a 30-day money back guarantee. Standard shipping is Free and priority shipping is only $5 on all U.S. orders.
5