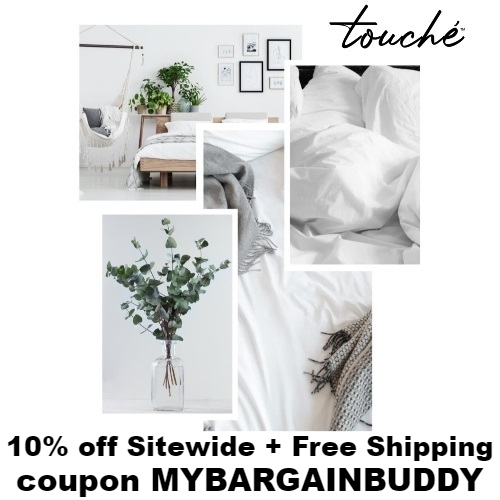 The pillowcase and bedding industry hasn't reached the same level of sustainability as food and energy. Cheap bedding and pillowcases are everywhere, but there are alternatives! Touché has created a line of revolutionary bedding woven with eucalyptus fabric for a clean, comfortable, and eco-friendly home. Their cool-to-the-touch eucalyptus fabric is more breathable than cotton, softer than linen, and you get the same pampering effects as silk, so you get the best night's sleep!
Touché's naturally antibacterial, supremely soft sheets and pillow cases are like sleeping in the clouds and are designed to minimize night sweats and prevent breakouts. They are made with no harmful chemicals and no toxins, just pure 100% organic eucalyptus. They also offer eucalyptus fabric sleep masks and hair accessories.
Get 10% off Sitewide and Free Shipping at Touché using coupon MYBARGAINBUDDY.
2