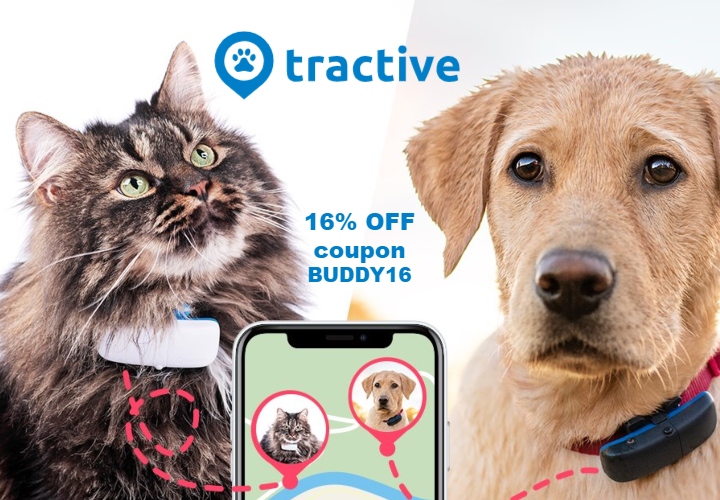 When it comes to your furry family members, can you put a price on peace of mind? There's no fear quite like coming home to find your precious pet is missing. Luckily, we live in a time where you don't have to lose sleep over your beloved four-legged friend getting too far from home.
Tractive is revolutionizing the world of pet safety. They've created one of the most accurate and efficient trackers on the market, changing the way people recover their lost pets.
Tractive is a sleek, lightweight, 100% waterproof and shock resistant real-time GPS live tracking device that attaches to most collars and locates your best friend immediately, whether he's playing hide-n-seek in your own backyard or embarking on a cross-country adventure. The only requirement is your canine or feline companion is over 4kg (about 9 lbs).
The device works in over 150 countries worldwide. Just like a phone, it connects to the best available mobile network and provides location data everywhere your pet goes. Even if you're on the other side of the globe, this tracker allows you to check in on Fido's location, anywhere and at any time.
The American Humane Association estimates over 10 million dogs are lost or stolen every year and one in three pets become lost at some point in their life. While microchips are common and do help reunite pets with their owners, this is dependent on up-to-date information in the database and a thoughtful human taking your pet to an establishment where the chip can be read.
The Tractive GPS Tracker has a few key features that help put pet parents at ease.
"Virtual Fence" notifies you the minute your pet leaves your designated safe zone
"LIVE Tracking" updates every 2-3 seconds, offering you moment to moment details on where to find your lost pet
"Location History" details all the places your four-legged friend has been
On top of the security Tractive provides, their app also offers activity monitoring with daily reports, allowing you to compare activity with pets like yours and set four-legged activity goals.
It's important to understand, the Tractive GPS Tracker is first and foremost a safety device for pet owners that are serious about maintaining the security of their beloved pet. The product is not intended to be a substitute for a leash and/or a fenced yard.
Secure the incredible bond between you and your fur baby with this next step in pet security. Use coupon BUDDY16 to get 16% off your Tractive GPS Tracker today, making it just $41.99. All orders ship Free and come with a 14-day money back guarantee. Subscription plans start at $5.39 a month, making peace of mind budget-friendly for all families.
Sign up for my email newsletter to get tips like this delivered to your inbox!
8