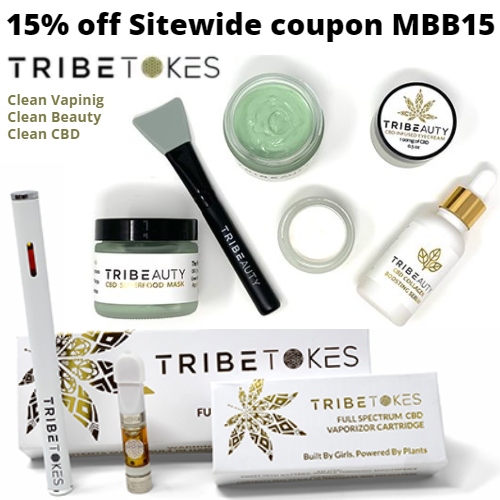 Tribe Tokes is a women-owned company that creates premium CBD vape oils, skincare, and pain creams. Their mission is to provide healthy products with powerful therapeutic effects to help people feel better and enrich their lives.
Tribe Tokes is best known for their clean vapes, which means they are formulated without any of the unhealthy chemicals you'd find in other vapes. They offer them in CBD & Delta 8 varieties –
CBD Vape Oil Pens – Cannabis vapes made with only 2 ingredients: pure full spectrum oil and natural plant terpenes. These vapes have a subtle, satisfying flavor with the therapeutic benefits of indica, sativa, and hybrid strains.
Delta 8 Vape Pens – Unlike other Delta 8 vapes on the market, Tribe Tokes pure and potent vape oil is full spectrum and contains CBD, CBG, and strain-specific terpenes for maximum therapeutic benefit. They contain no MCT, PG, PEG, VG, or Vitamin E Acetate.
Their TribeBeauty CBD skincare line is where clean skincare meets CBD. CBD can help with inflammation and control oil production to fight breakouts. TribeBeauty combines CBD with safe, effective, and non-toxic plant-based ingredients to create premium face masks and skincare treatments that combat redness, irritation, breakouts, and aging.
Tribe Tokes also carries great tasting CBD and Delta 8 gummies which contain no high fructose corn syrup or carcinogenic food colorings. They are flavored with all natural juice extracts and organic cane sugar.
Get 15% off Sitewide at Tribe Tokes using coupon MBB15. Priority shipping is $8 or Free on orders of $100 or more.
For extra savings, be sure to check out their vape bundles, starter kits, skincare bundles, pain management bundle, and their "Buy More, Save More" deals. They're already discounted up to $40 before coupon!
Every Tribe Tokes product is lab tested for cannabinoid potency, and all vapes are tested for heavy metals, residual solvents, pesticides and microbials.
3