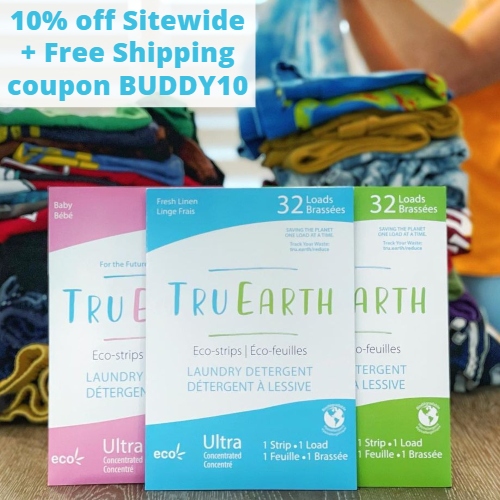 Tru Earth offers eco-friendly laundry detergent that is sensitive on your skin and the environment!
Their Eco-Strip laundry detergent is biodegradable, hypoallergenic, vegan, and free of parabens, phosphate, added dyes, and chlorine bleach, making them gentle enough for even the most sensitive skin.
Each Eco-Strip is a tiny, pre-measured strip of liquid-less laundry detergent that you simply toss in the washer with your clothes. 1 strip equals 1 load – No measuring, nothing to spill, and no bulky plastic jugs that take up too much space and end up in landfills.
Each Eco-Strip is packed with ultra-concentrated eco-friendly cleaning power that effectively seeks out and dislodges dirt molecules and even the toughest stains, revealing vibrant colors and radiant whites. The low-sudsing formula makes them great for all types of washing machines, including high-efficiency (HE).
Tru Earth laundry detergent is incredibly convenient, better for your skin, and their zero waste Eco-Strips are packaged in plastic-free compostable cardboard sleeves. Every 32-load package of Eco-Strips eliminates 1 plastic jug from potentially ending up in landfills and oceans – making washing the laundry easier, healthier, and much better for our planet.
They are available in Fresh Linen scent, fragrance-free, and fragrance-free / hypoallergenic formula for babies.
Get 10% off Sitewide at Tru Earth using coupon BUDDY10. All orders ship Free – No minimum purchase required! All products come with a 100% money back guarantee.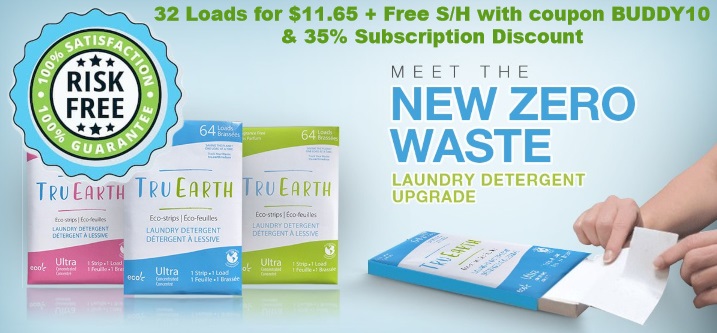 For extra savings consider a laundry detergent subscription. You'll get an automatic 35% off every shipment in addition to 10% off your first order with coupon BUDDY10. There are no commitments. You can pause or cancel anytime.
Tru Earth also offers other eco-friendly household items, including beeswax food wraps, compostable sponges & dishcloths, reusable mesh grocery bags, bamboo makeup remover pads, and more.
3