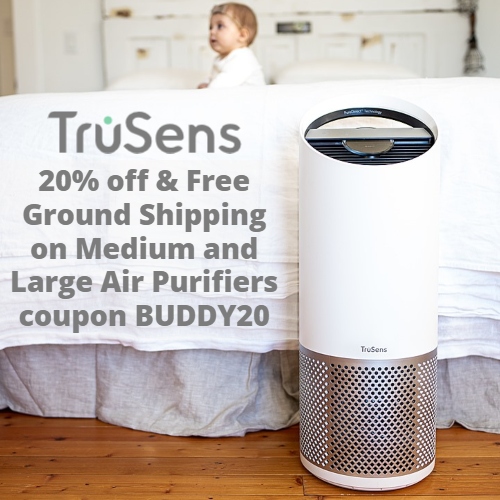 TruSens Coupon
Today: 20% off & Free Ground Shipping on Medium and Large Air Purifiers
Coupon: BUDDY20
Expires: 12/31/21
SHOP NOW
TruSens offers innovative air purifiers that help you breathe easier by reducing airborne viruses and allergy & asthma triggers in your home. Their purifiers are beautifully designed, simple to use, and highly effective. Their signature DuPont™ 360° filters capture allergens, certain VOCs, and microscopic particles from all directions, while a UV-C light kills germs and bacteria trapped in the filter.
TruSens Air Purifiers adapt to the ever-changing air quality conditions in your home. Their SensorPod™ detects pollutants from across the room, not just by the purifier. TruSens automatically adjusts its fan speed, delivering cleaner air throughout your space. Their PureDirect™ technology allows you to breathe cleaner air throughout the entire room by delivering clean air in two streams instead of one for better air distribution.
With their Z-2500 and Z-3500 Wi-Fi Enabled Smart Air Purifiers, you can take control of your air from anywhere using Alexa device voice commands and/or the app remote functions. You can track outdoor air quality changes, know the quality of your indoor air in real-time, get filter change reminders, reorder supplies, and more.
TruSens offers medium & large purifiers, so whether you're in a small city apartment or a large corporate office space, they have a purifier to suit your needs.
Get 20% off & Free ground shipping on medium and large air purifiers at TruSens using coupon BUDDY20. Coupon is not valid on bundles.
All purifiers come with a 30-day satisfaction guarantee. If you don't love your new purifier, you can send it back for a refund!
4